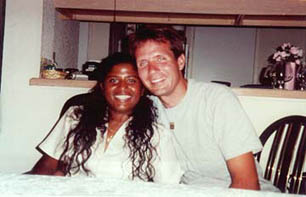 Welcome to our 2000 photo album!
Where did we spend our Millenium? Cozumel, Mexico! We spent Christmas in Cozumel and New Year's week in Cancun. Check out our diving photos for Cancun and Cozumel!
After returning from Mexico, we spent a quiet Spring and early Summer, while Sandra took finals and finished up school, and we recovered from the holidays. We went snowboarding a few times (way cool!) and played lots of soccer (yes, even me!) But when Anna arrived for a month-long stay, including her 21st birthday, things got rolling!
We rented a Wave Raider, which was way cool. We went hiking with Anna to Wahclella Falls, Horsetail, and Ponytail Falls in the Columbia River Gorge, as well as through the Oneonta Gorge, went to the Wildlife Safari, the Oregon Coast for some whale watching, played lots more soccer and drank lots of beer, then Anna and Sandra took off for Las Vegas for Anna's birthday, where they caught Sigfried & Roy during their stay at the Mirage. We backpacked into Cultus Lake in Indian Heaven and camped, hiking past Deer Lake, Bear Lake, Deep Lake and Clear Lake, and we also camped at Olallie Lake in the shadow of Mt. Jefferson, where we hiked past Lower Lake and Fish Lake. We bought mountain bikes and biked at Champoeg State Park, and are gearing up for some mountain climbing in the spring. We're also getting rev'd up for some autumn scuba diving, and we bought new snowboards, boots and bindings for some early-season boarding, not to mention our winter trip to Sweden, where we'll visit the Ice Hotel and do some sled dogging and snowboarding!
This photo album contains photos of us hanging around home, with friends and family, and just doing our thing. There are more photos from these years throughout the various slide shows on our site, but these area the ones that didn't really seem to fit into any particular category. To view a slide show, click on the links at left. To return to the photo album main page, and not view the slide show, click here.