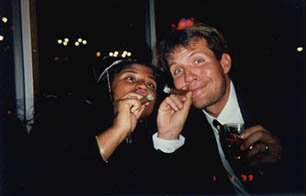 Welcome to our 1995-1998 photo album!
1998 was a good year for us, providing us with a trip to Puerto Vallarta, snow at home in the winter, and Sandra's friends from Sweden, Kicki and Johan, joined us for the month of August. We had our first chance to relax and enjoy our life together at home most of the year, to recover from last year, and to prepare for next year!
For more photos of Kicki and Johan's visit:
Vancouver Photo Gallery - Photos of us around town.
Portland Photo Gallery - Portland's Rose Gardens and Japanese Gardens
Oregon Photo Gallery - The Columbia River Gorge
Washington Photo Gallery - The Gorge and our trip to Seattle.
British Columbia Photo Gallery - Our trip to Vancouver, B.C.
This photo album contains photos of us hanging around home, with friends and family, and just doing our thing. There are more photos from these years throughout the various slide shows on our site, but these area the ones that didn't really seem to fit into any particular category. To view a slide show, click on the links at left. To return to the photo album main page, and not view the slide show, click here.