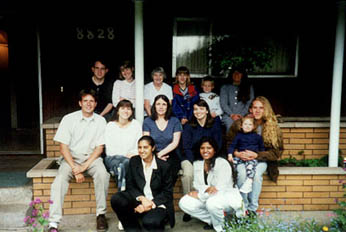 Welcome to our slide show! In this slide show, you can view photographs of our trip to Marysville in 1999 to visit my family.
Back Row (L-R): Cousin Chris, His wife Cara, my Grandma, Cousin Emily, Cousin Max, Aunt Gina
Middle Row (L-R): Me, Cousin Jennifer, my Mom, Aunt Kathy, my brother Gabe and his daughter Alexis.
Front Row (L-R) Sandra's sister Anna, Sandra
To begin the slide show, click on the arrow below.