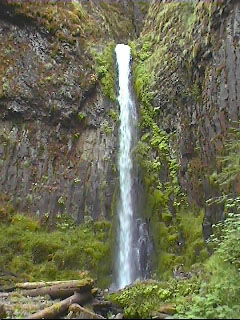 Best viewed at 800x600 Screen Resolution
Dry Creek Falls is one of the least visited waterfalls in the Columbia River Gorge. A 5.4 mile loop, the trail begins in Cascade Locks next to the Bridge of the Gods, and runs through a Douglas Fir forest, where we spotted two deer. The trail then rises a modest 700 feet in elevation up to the base the 50-foot falls, pouring out of a gully in 300-foot rock cliffs and into a pool below, before continuing down Dry Creek.

We visited this falls July 21st, 2001, and found the falls to be totally vacant. We ate lunch at poolside, with the mist of the falls cool on our faces, and relaxed in the quiet roar of the falls before heading back toward our car. The following pages contain photos of our outing. Click on "Next Image" below to continue the slde show!