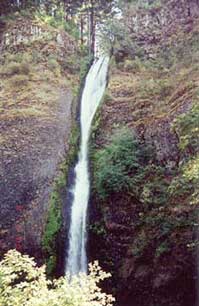 Best viewed at 800x600 Screen Resolution
The Oneonta Gorge trail is right next door to overcrowded Multnomah Falls, but is often overlooked by tourists. The easy, 2.7 mile round-trip trail starts beside 176-foot Horsetail Falls (left) and climbs along a mossy slope of little licorice ferns. After 0.2 miles, the trail ducks behind Ponytail Falls (alias Upper Horsetail Falls).

Beyond the falls 0.4 miles, there lies a panoramic viewpoint of the gorge, followed another 0.4 miles later by a dramatic metal footbridge over 60-foot Oneonta Falls. You can take a side trip up to Triple Falls, or call it quits there. You can also trek up the Oneonta Gorge to a hidden 100-foot waterfall. Another beautiful hike.