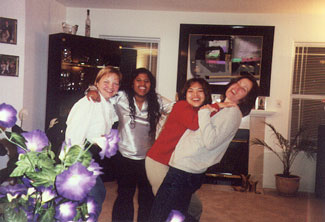 Welcome to our 2001 photo album!
2001 was a good year. We snowboarded all winter, climbed Mt. St. Helens and Mt. Adams this spring, along with lots of hikes such as Mt. Defiance, North Lake, Mt. Hamilton, Dog Mountain, Dry Creek Falls and Eagle Creek. We hosted Sandra's family for three weeks in May and June, celebrated Sandra's graduation from Washington State University, and took a little time to update this darn site! In December, we took a vacation to Hawaii, visiting all six major islands, and did lots of scuba diving! I switched jobs, working now for W&H Pacific in Beaverton, OR, and we sold our venerable Honda Accord and purchased a Lexus LS400.
This photo album contains photos of us hanging around home, with friends and family, and just doing our thing. There are more photos from these years throughout the various slide shows on our site, but these area the ones that didn't really seem to fit into any particular category. To find out what photos may have been added since your last visit, check out our What's New page! To view a slide show, click on the links at left. To return to the photo album main page, and not view the slide show, click here.