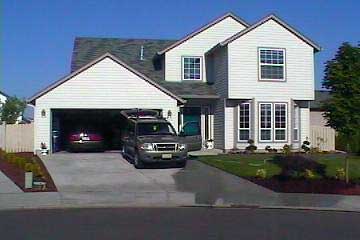 Welcome to our 2002 photo album!
2002 has seen us become homeowners for the first time, which has severely limited the rest of our activities. Sandra visited Sweden for three weeks in June, and brought her sister, Anna, back with her to stay with us for two weeks. We went white water rafting on the White Salmon River, summited Oregon's South Sister and Middle Sister (each over 10,000 feet), went wine tasting at Willamette Valley Vineyards, ran the Starlight Run (5k) in drag during Rose Festival, and spent four weeks in Bend, OR mountain biking and working. I also spent a week and a day working in Olympic National Forest! This year has seen me achieve my Professional Surveyor and Certified Water Rights Examiner licenses, Sandra finishing her first year of graduate school in her Masters of Social Work program at Portland State University, and left us time to take a long weekend to snowboard in Idaho in March. In October, we bought a new car - an Infiniti QX4, to replace our Explorer.
This photo album contains photos of us hanging around home, with friends and family, and just doing our thing. There are more photos from these years throughout the various slide shows on our site, but these area the ones that didn't really seem to fit into any particular category. To find out what photos may have been added since your last visit, check out our What's New page! To view a slide show, click on the links at left. To return to the photo album main page, and not view the slide show, click here.