---
Snowboarding
---
We first picked up the sport of snowboarding in 1999. We had tried it a couple of times before, but only once a ye
ar, which of course meant that we only experienced misery. In 1999, we made up our minds to figure this thing out. We had never been skiing or snowboarding before, so we had to make a decision which one to learn first. We went up to Timberline Lodge one evening for dinner, and watched the people on the slopes. The main thing we noticed was that the snowboarders seemed to be having much more fun! We noticed that the snowboarders crashed much more than the skiers, but when the skiers crashed, it looked brutal, with skis flying off and people spinning around their skis with their knees seemingly being torn off. Since we've both experienced knee injuries in the past, we decided to pick up snowboarding.
The winter of 1999, we went up three times to Mt. Hood Meadows, and after some Buttercup Lift training runs, we began to get the hang of it. We learned how to stop, turn and slow down, the most important, but hardest skills for a beginner. We felt good, though, and couldn't wait for next year.
In 2000, we bought our own snowboards, Sandra choosing a 151cm Sims Quest board and I, a 168cm Salomon. We both went with Switch AX-8 high back, step-in bindings, and I opted for the stiffer, all-mountain Vans Flyaway boots, while Sandra took the more comfortable Northwave offering.
We hit the slopes with reckless abandon! We started fast out of the gates, spending 17 hours on the slopes on our first weekend. We kept going back almost every weekend throughout the winter, except for the month we spent in Sweden. We've progressed now to Black Diamond runs and Terrain Park jumps, and we're int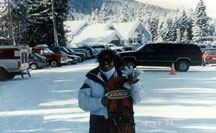 o it more than ever! Every weekend seems more fun than the last, except for when we went in a torrential rain storm. That wasn't that cool.
We spent most of the winter at Timberline. They've got the best terrain park on Mt. Hood (in our opinion), and the Palmer ski lift is open all year! The discounted tickets we got through Sandra's school helped too!
---
Updates!!
The 2001-2002 season is under way! We hit the slopes the day we returned from Hawaii with a $10 Safeway Saturday Night Ski at Mt. Hood Meadows. A lot of people have found out about this deal over the past year, that's for sure! The slopes were packed, and the lift lines were immense. We arrived at 3:45 and left at 9:15, and got in a whopping 6 runs all night. The snow was good, though, and our base total was up to 130", so we had a bit of fun getting back into the swing of things, and testing out Sandra's newly operated knee. I think we'll try a different time than Saturday Night next time, though!
A couple of weeks later, we hit Mt. Hood Ski Bowl after some of the best powder in recent memory hit town. Timberline is now over 200 inches of snow, and Meadows has over 180", while Ski Bowl, which hasn't even been opening in recent years has over 140 inches! The snow conditions were great, but the heavy snow had the roads all messed up, so we decided to stop off at Ski Bowl to shorten the drive time. This was the first time for us at Ski Bowl, and we had mixed reviews. The lift lines were short, and the tickets were much less than Meadows
, but the lifts were slow. Black Diamond runs abounded and the outback was sweet, but there were limited banks and jumps for snowboarders. I think we would have had more fun if we were skiiers, but the snow and the weather were so great, we had a blast!
3/25/2002
We just got back from Coeur D'Alene, Idaho, where we hit the Rocky Mountain powder at Silver Mountain and Schweitzer Mountain! Both ski areas were a lot of fun. Silver had the world's longest gondola ride, great snow, great weather, and a nice wooded environment. It also had $19 lift tickets! Regular prices are $30 on weekends and $25 on weekdays. Thursdays they run a special at 2 for $22! Schweitzer was totally awesome as well. Seemingly endless runs, including the Great Divide at a whopping 2.7 miles, perfect snow and great weather, as well as a cute village, high-speed lifts, and a killer terrain park offset the $40 lift tickets and the winding mountain road easily. Both resorts offered panoramic views over the Rockies, and with the clear, sunshine-laden days, the atmosphere was tremendous. Schweitzer looks out over beautiful Lake Pend Oreille, and Silver overlooks the small town of Kellogg with a snow-capped backdrop. Check out our Photo Gallery for our slide shows!
Holiday Season 2002-2003
We spent the holidays in Banff, Alberta, home of some of the best powder skiing anywhere. We were enchanted by the stories of Lake Louise, with its breathtaking scenery and champagne powder snow, and we knew we had to be there. We spent nearly three weeks in Banff, but only 'boarded 4 times! The first week was frigid, with temperatures nearing -20°F, and there was hardly any snow. The next week, it "warmed" to around 10°F and some snow began to fall, but Sunshine Village and Lake Louise still had only 40 inches of snow or so, and Banff Norquay had only 19 inches! We had to walk more than once as our runs faded out into rocks, and the lack of snow created some extremely icy runs. Because it was snowing, the views were nonexistent, but there was never really enough snow to make it live up to its reputation! We were totally bummed about the 'boarding, but at least we got to relax in some beautiful country! We'll have some photos up soon!
---
October 25, 2003
We attended the screening of Warren Miller's new film, Journey at the Arlene Schnitzer Concert Hall in Portland. Warren himself was on hand to sign autographs and narrate the show. The sold out house loved the show, and showed Warren some love! Now we're really geared up for the upcoming season!
---
January 31, 2004
After a really lame trip in bad weather, where we got skunked out of Mt. Hood Meadows and Timberline (roads and lifts closed) and settled for Ski Bowl, we were pumped to head up to Mt. Bachelor. The snow was soft and fluffy, and visibility was great! This very well may have been the most fun boarding we've had yet! The snow was the best we've ever had, deep, uncut powder, so light that you never got stuck. We might as well have been heli-boarding!
---
You can visit our Snowboarding Directory by clicking on the link at left, where you can find lots of links and information about the sport, including gear, runs, 'zines, and more! Don't miss our special section dedicated to boarding in the Pacific Northwest! You can also visit our Photo Gallery to see photos of us boarding. We'll post some video footage soon as well! Thanks for visiting and happy boarding!
Visit Top 50 Sports Sites to cast your vote for Johann & Sandra's Snowboarding!
---