---
Sweden
---
Sandra was born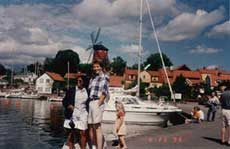 in India but raised in Sweden since she was 4 months old by her family. Sandra grew up and lived in Sweden until she left for an exchange program in America when she was 17. Sweden is a land of beauty, with countryside stretching as far as the eye can see. We return to Sweden most every year at least once, and have traveled together throughout most if it. Two winters ago we visited the arctic north of Lapland, where the world's largest igloo, the Ice Hotel is built each year. All in all, Sweden is a wonderful country surrounded by majestic scenery. With a rich history, Sweden offers a culture and a people that are in many ways traditional yet cutting-edge at the same time. If you get a chance, we definitely recommend you to visit Sweden, so you can experience it first-hand. The Swedes are definitely a fun and "crazy" people to get to know.
S

weden, with an area of 173,732 square miles (approximately the size of the state of California), occupies the greater part of the Scandinavian Peninsula, which it shares with Norway. The land slo
pes gently from the high mountains along the Norwegian frontier eastward to the Baltic Sea. Geologically, it is one of the oldest and most stable parts of the Earth's crust. Its surface formations and soils were altered by the receding glaciers of the Pleistocene Epoch (i.e., the last 1.6 million years). Lakes dot the fairly flat landscape, and thousands of islands form archipelagoes along more than 1,300 miles of jagged, rocky coastline.
Like all of northwestern Europe, Sweden has a generally favorable climate relative to its northerly latitude owing to moderate southwesterly winds and the warm North Atlantic Current.
The nation has a 1,000-year-long continuous history as a sovereign state, but its territorial expanse changed often until 1809. Today it is a constitutional monarchy with a well-established parliamentary democracy that dates from 1917. Swedish society is ethnically and religiously very homogeneous, although recent immigration has created some social diversity. Historically Sweden rose from backwardness and poverty into a highly developed postindustrial society and advanced welfare state with a standard of living and life expectancy that rank among the highest in the world.
Sweden long ago disavowed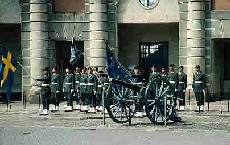 the military aggressiveness that once involved its armies deeply in Europe's centuries of dynastic warfare. It has chosen instead to play a balancing role among the world's conflicting ideological and political systems. It is for this reason that Swedish statesmen have often been sought out to fill major positions in the United Nations. At peace since 1814, Sweden has followed the doctrine, enunciated in every document on foreign policy since World War II, of "nonalignment in peace aiming at neutrality in war."
Sweden has a population of 8,861,711, or roughly that of New York City. It's population density of 55 people per square mile ranks as one of the lowest in the world (nearly 70% of the country is forested), and over 83% of people cluster in the urban areas. Of these, Stockholm is the largest, with a population of 736,113, followed by Göteborg (459,593), Malmö (254,904), Uppsala (187,302) and Linköping (131,948). The birth rate is approximately 40% of the world average (10.8%), and the population growth rate is just 0.2%, compared with the world average of 15.7%. Sweden was ranked in 1999 as the 6th best country in the world in which to live, trailing only Canada, Norway, United States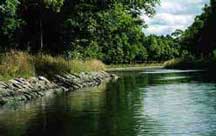 , Japan and Belgium.
In return for high taxes, citizens are provided with a broad spectrum of public services and social welfare benefits that guarantee a minimum living standard, provide aid in emergencies, redistribute income over a person's lifetime, and narrow the gap between different income groups. All residents are covered by national health insurance.
Health conditions in Sweden are good by comparison with other countries in general. Infant mortality is low (3rd lowest in the world), and the average life expectancy at birth is high (79 years, 6th highest in the world). The ratio of doctors to population is also relatively high. Primary health care centers are available in every community. For highly specialized health care, Sweden is divided into six medical care regions, each with at least one large hospital that has many specialists and is affiliated with a medical school for research and teaching.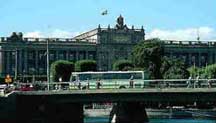 Extremely liberal benefits are available to parents. They are entitled to 12 months of paid leave from work, which can be shared between them before the child is eight years old. They also receive tax-free child allowances, equal for everyone, until the child's 16th birthday. Students who continue their education are entitled to study allowances. At the university level these consist chiefly of repayable loans. Municipalities provide an increasing number of day-care and youth activities. Low-income families and pensioners are eligible for housing allowances.
National accident insurance pays all health costs for on-the-job injuries. Many working people in Sweden have unemployment insurance through their trade unions, while the unemployed without su
ch coverage can receive a smaller cash benefit from the state. There are extensive government programs of job retraining and sheltered employment as well as relocation grants to help the unemployed find work. A basic old-age pension is available to everyone starting at age 65. The state also pays an income-related supplementary pension financed through a payroll plan.
As a result of the socialist government, family unity is strong, poverty is virtually nonexistent, and crime is extremely low. The high tax rates create very few overt displays of wealth, with almost all families belonging to the middle class. Gasoline prices are high, limiting use of cars, and an American will be su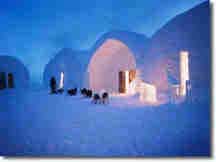 rprised at the absence of trucks, sports cars, vans, and sport-utility vehicles. Volvos abound, with 26% of all cars on the road being Volvos, and nearly three times as many Volvos on the road as runner-ups Saab, Ford, and Volkswagen. Public transportation, with subways, bullet trains, excellent bus systems and towns designed for walking and bicycling, is common, inexpensive and easy to use. Sweden is also world-renowned for its liberated attitudes, with over 90% of Swedes engaging in premarital sex (the highest rate in the world), and consuming (along with Finland) more alcohol per capita than any other country on earth. Despite this explicit activity, incidents of alcoholism and sexually-transmitted diseases are very low, and drug use is scarce (lowest use and abuse rates in Europe). Sandra had never even heard of drugs before coming to the United States!
On this portion of our site, you can click on one of the links in the table below to find out everything you ever wanted to know about Sweden. For more information on Sweden, check out our pages on:
Sweden Photo Gallery - See photos of us out and about in Sweden.
Eskilstuna/Torshälla - Sandra's Hometown! See also our Photo Gallery.
Handball - Sandra's favorite sport! Find rules and links to Swedish players, clubs, and teams!
Soccer - Sandra's second favorite sport! Find photos and links to Swedish soccer pages.
---