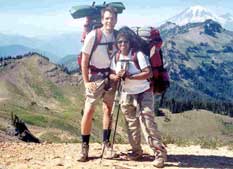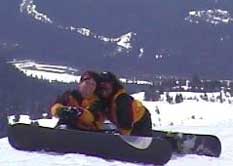 When the weekend comes, we come to life! We love to do sports together and we love the outdoors! We spend most of the summer and fall mountain biking, golfing, playing tennis and soccer, rafting, and hiking. During the winters, we usually hit the slopes for some snowboarding and mountaineering. And when we vacation to warm, sunny places, we usually go scuba diving.
Needless to say, we like many sports and outdoor activities and we are always interested in trying something new and exciting! Next on our list is probably rock climbing (if Sandra can overcome her fear of rattle snakes) and we are definitely interested in learning how to surf, kite and wake board. Who knows, perhaps we'll get a chance to explore these sports this summer....
To visit our pages on our various athletic pursuits, click on a link at left. We'll be adding pages on our Florida, Brazil, and Panama trips and snowboarding in Banff, Alberta soon.
If you have any links to add to our pages, or suggestions for our site, just e-mail us!