---
California 2001
---
On Memorial Day Weekend, 2001, Sandra, her mother and grandmother, and I set off for California. Aboard Southwest Airlines, we were bound for Oakland Alameda Airport in Oakland, CA. Once there, we were to drive to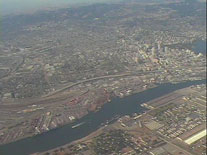 Millbrae, where Grandma's cousins reside, drop off Grandma for a visit, and head south, down California Highway 1 to Los Angeles. It was a long drive, and we didn't get to the airport until 3:00pm, so I knew we would have to find a hotel. I had spent a week trying to find a hotel room available anywhere along the coast on this weekend, and finally had found a Rodeway Inn in Buellton that had one room available. We snatched it up, and were on our way.
Upon arrival to Oakland, we hit the Avis car rental counter and picked up the keys to the 2001 Pontiac Grand Am that we had reserved. We sped onto the highway, and after crossing the San Mateo bridge, we found Grandma's cousin, Pola's house. We had a quick cup of coffee, said good-bye to Grandma, and set off for the coast. We sped through the small town of Half Moon Bay, home to a majestic view of it's namesake bay, a simply mesmerizing area. Heading south now, we passed through Santa Cruz, home of a fantastic and extremely crowded boardwalk along the beach. We intended to stop, but it was so crowded that we decided to pass on through.
Next we passed through the city of Monterey, home to the famous Cannery Row. We
didn't stop here, but we thought it would be a nice city to visit sometime. The highway now became very narrow, and hugged the cliffs overlooking the ocean. The views were panoramic, and my knuckles were white as I grabbed the wheel. We passed through the quaint and very expensive town of Carmel-By-The-Sea and tiny Pacific Grove, home to the Point Pinos lighthouse. In Big Sur, we decided to stop for fuel, nearly making a huge mistake, as the gas prices were over $3 per gallon. We had enough to get to Buellton, so we pushed on. Every hotel and campsite along the way was booked solid as we neared San Simeon, home of Hearst Castle.
Night had fallen now, and the scenic drive had almost come to a close as we stopped in San Luis Obispo for some dinner. We hit highway 101 and made it to Buellton around 11:00pm. The Rodeway Inn turned out to be a remodeled Econolodge, and our room reeked of smoke, all for a paltry $90 fee. The next morning, we headed for Hollywood...
Click on the arrow above to continue to page 2 - We arrive in Hollywood!
---