California 2001
...continued from page 2
---
...Santa Monica was a cozy city, where we felt safe to walk around. Our taxi driver the night before had rec
ommended the Promenade to us, saying that it was nicer, cleaner and safer than the Sunset Strip. We parked and headed down a deserted back alley toward the Promenade, feeling more than a little uneasy.
The Promenade was blocked off to automobiles, several blocks long, and home to street performers, a variety of restaurants with patio dining, music, and night life. We picked a restaurant called Trastevere, an italian restaurant with an intriguing menu and an intimate setting. We took a seat next to two guys from TV's Melrose Place (Sandra knew them, I didn't), and had a nice evening. The street is cozy, with landscaped dinosaurs, fountains, year-round christmas lights, and lots of people to watch, both local and tourists. We were very happy that our cab driver had recommended this place.
Exhausted from the day's events, we headed back to our hotel, rather than sampling any of the night life that Santa Monica had to offer, since we knew we had to be up at 5:00am to drive back to Millbrae, pick up Grandma, and get to Oakland by 4:00pm.
The next day, we set out up Interstate 5, passing through endless miles of barren w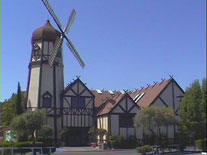 asteland, followed by endless miles of farmland. The view was so boring, we had trouble staying awake, and we had to stop at Andersens Pea Soup, a Danish restaurant, for a cup of coffee. The restaurant was nothing special, more like a Denny's than anything, except for its quaint windmill exterior. After missing our exit for the San Mateo Bridge, we circled the bay area, passing through Hayward, Oakland, and San Francisco, before heading over the Bay Bridge and back to Millbrae. We made the airport with plenty of time to spare, and we headed home...
Overall, a nice trip, with lots of tourist-stuff crammed into a couple of days, but I think that's really enough to get an idea of what the area is like. We really enjoyed Santa Barbara and Santa Monica, Venice was nice, and so was Monterey. We didn't care much for Los Angeles, which is so typical of America...Beverly Hills with all its money, glitz, and glamour, contrasted sharply by the rest of L.A., with poverty, gangs, and run-down ethnic areas.
You can view a slide show, containing photos of our trip, by clicking on the links at left. We have put photos from both trips in the slide show.
---

---