---
---
Elk Cove Vineya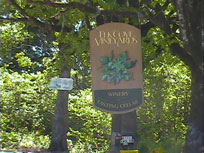 rds is located off Highway 47, South of Forest Grove, on an isolated hillside in Gaston, Oregon. After weaving your way up a country road, you'll see the familiar Elk Cove logo sign posted on the right, guiding you up a paved driveway through the 65-acre vineyard. The area is pristine, with a gazebo beautifully set up for one of Elk Cove's popular wedding packages. The tasting room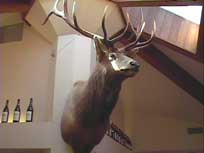 is small, but nicely set up, with a mammoth
Roosevelt Elk mount looming overhead. Mt. Hood and Mt. Jefferson are visible over the horizon of the rolling hills, and there are picnic tables set up on the deck overlooking the vineyard.
The wines available for free tasting were not overly memorable, with the exception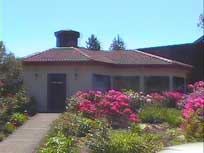 of the 1999 Viognier, priced at $28.00 per bottle. The Viognier had a strong oak taste, went down very smooth, and was a surprising deviation from the standard line of wine offerings. Though we didn't decide to buy any of the wine at Elk Cove, the Viognier opened up our eyes to a distinctively different taste. Overall, we tasted 11 wines, priced from $10 to $32 per bottle, including a red and white La Sirene (a blend of a smorgasbord of different wines), a Pinot Gris, three types of Rieslings, a Cabernet, and three Pinot Noirs. The Pinots were quite tasty, but great Pinot is a dime a dozen these days in the Willamette Valley.
Elk Cove is located further from Portland than most of the Northern Willamette wineries, but we felt is was well worth the drive.