---
Portland, Oregon
---
---
Portland, Oregon is only five minutes away from where we live in Vancouver, Washington. It's where all the entertainment, shopping and big-city atmosphere is. When people ask where we are from, we tell them Portland, because nobody knows where Vancouver is! I can't think of a nicer city to live in than Portland. Mt. Hood looms over the city larger than life with its majestic peak, the Columbia and Willamette Rivers run through the city, with its multiple bridges, and the west hills create incredible views and beautiful wooded city streets. If only Portland had more universities, we would perhaps never leave. Where else can you find skiing, mountain climbing, watersports, scuba diving, ocean beaches, wildlife preserves, hiking, windsurfing, wineries, hot-air ballooning, sky diving, waterfalls and desert dunes all within an hour drive of a major city?
Portland has a population of about 503,000 within its city limits, and encompasses a metropolitan population of about 1.7 million people. It is the 6th fastest growing major city in the country over the past decade, with an population increase of almost 16%. It averages about 173 feet above sea level with average temperatures running about 80°F in the summer and 33°F in the winter. Although its reputation is that of a rain-drenched city, its average rainfall of 37" is less than that of cities such as Atlanta, Baltimore and Houston! Mt. Hood provides a beautiful backdrop, only 65 miles outside the city, and the Pa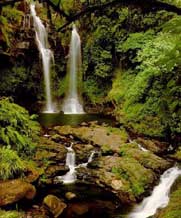 cific Ocean is only 78 miles to the west. The city has set aside 37,000 acres of parks, including the largest park in the city, 5,000 acre Forest Park.
Portland may be well known for its cutting-edge rock'n'roll, but the alternative sounds of youthful angst coexist here peacefully with Shakespeare, Broadway shows, ballerinas, chamber music ensembles and full-blown classical orchestrations.

The Rose City's culture, however, isn't limited to the performing arts. Its personality simmers in hip coffee houses, Native American art galleries, and ubiquitous bookstores and brewpubs.

The city's love affair with beer stretches back more than 100 years. It began in 1888, when Henry Weinhard and a few other fun-loving civic leaders proposed pumping ale through the Skidmore Fountain. The ambitious plan to transport beer through Portland's only set of fire hoses, however, was nixed for fear that overzealous residents would puncture the hoses and help themselves to the ale before it reached the fountain.

Though none of the city's fountains is currently overflowing with beer, more than 40 craft breweries and brewpubs have earned Portland the nickname "Munich on the Willamette."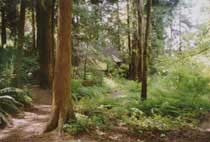 What's on tap? Try an English-style stout, an unfiltered Hefeweizen or a fruit brew made with raspberries. Just don't let the enormous array of beer choices intimidate you; Portland natives are always happy to recommend their favorites. Just ask.

On the arts front, Portland's scene changes with the time of year.

Winter offers great off-season hotel rates and a full menu of theater, symphony and dance productions, including an elaborate rendition of The Nutcracker ballet.

Most of the arts companies begin or end their runs during spring and fall, which means performances are plentiful even during these reasonably priced "shoulder" seasons.

Summer is quieter but offers a Broadway series as well as plenty of events -- planned and impromptu -- to enjoy outdoors. Check out Pioneer Courthouse Square, the Oregon Zoo, and Tom
McCall Waterfront Park for blues, jazz and kids concerts.

Portland has an easy come-as-you-are attitude regarding the arts. The jeans you wore while sampling microbrews work just as well at the symphony and theater. Sure, you'll see folks in tuxes and pearls, but you'll also see plenty in flannel and denim. It's not the dress that's upscale, it's the experience.

Keeping pace with the performing arts, the area's museums showcase a steady stream of world-class exhibitions and artists.

Following a $13.3 million capital and endowment campaign, the 107-year-old Portland Art Museum set its sights a notch higher: competing aggressively to become the place in the Pacific Northwest for the nation's most important traveling shows.

Getting around to take in the scene is easy and delightful. Years of careful urban management have made Portland a city planner's dream. Light rail trains move visitors and commuters through the town. Statues and fountains dot every turn. Building height restrictions guarantee sunlit streets and ensure tantalizing views of nearby Mount Hood. Portland's 37,000 acres of park space include sizeable chunks of prime downtown real estate (check out the farmers market in the Park Blocks during the summer months), while progressive bike policies have earned it a spot among the top three most bicycle-friendly cities in the United States.

Built on a European model, Portland is also a walker's paradise, with very manageable 200-foot city blocks as well as miles and miles of woodsy nature trails.
This site will introduce you to Portland, Oregon with some photographs, links and narrative about the city we love.
---
Photo Gallery See photos of us in Portland (and some without us as well...!)
The Portland Directory Our own directory of links to Everything Portland...
---