---
---
Just down the street from Bethel Heights is the cozy little Witness Tree vineyard, sitting on 100 acr
es, where all the grapes produced for their wine are grown. Mt. Jefferson graces the skyline, and a picnic area sits beneath the namesake witness tree. The witness tree, as owner Dennis Devine tells us, was noted by surveyors of the area for many years, as it is perched on a hillside by itself, overlooking the valley and is visible from all over. His walls are graced with original government survey notes of the tracts surrounding the witness tree, and an ancient coin found near the tree in 1996.
They produce only Chardonnays and Pinot Noir, but are discontinuing the Chardonnay because they don't feel they can compete with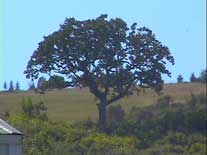 California's massive Chardonnay crops. Oregon Pinot Noirs are world famous, however, and for good reason. The Pinots we tasted here weren't really up to Oregon standards, but were reasonable priced, and were quite pleasant. We bought a glass of the Vintage Select 1999 Pinot Noir and lounged in the picnic area on a beautiful sunny day, while horses grazed nearby, overlooking the vineyards. The winemaker strolled through the crops and the Devines attended to the grounds while we sipped on the wine, and enjoyed the scenery. I neglected to mention to the owner that the tree gracing the label isn't nearly old enough to be the one indicated on the original government survey notes hanging on his wall. We got a case of their closeout Chardonnay for only $4 per bottle. Not the best Chardonnay around, but much better than that price!