---
---
Molokai, the fifth-largest island in Hawaii, sits so near the tourist hordes of Maui and Oahu, always visible off the coast, yet it seems oddly isolated, almost forgotten. There are no monster hotels, crammed together along the beach; no dive boats filling the harbor; no mass of tourists sunning themselves, filling every last inch of sand. No, Molokai is largely hidden from the commercialism, hidden from the hype, and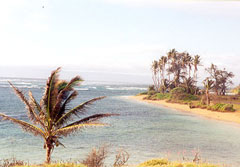 best of all, it just feels cozy.
Here you'll find a few widely scattered condominium complexes and a couple of isolated hotels, mostly vacant expanses of white sand, horses grazing in the palm-lined pastures, and waterfalls outlined by rainbows, pouring into the hidden valleys below. You'll find no cities; only small villages and the cozy, repressed town of Kaunakakai, with its three block radius. You'll find no night clubs and hot spots, just the chirping of the crickets and the gentle flow of the waves washing ashore.
Along with the tiny island of Niihau, Molokai is the only island where native Hawaiians are the majority of the population. Despite its small size, it is also home to the second highest number of native Hawaiians. The west end of the island is dry and scrubby, with rolling hills, and a maximum elevation of 1,381 feet, while the east end is lush and tropical, with magnificent waterfalls falling off the highest seacliffs in the world to the moss-covered valley floor below. Papohaku Beach, on the island's far west end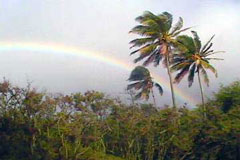 is one of the most massive white sand beaches in Hawaii. What's amazing is that on any given day, you may have it all to yourself.
There are plenty of recreational opportunities here for such a small island, with deep, untravelled forests, open sand dunes, magnificent seacliffs, and beautiful beaches. However, if it's excitement you're after, you may want to travel to one of the neighboring islands. If you want peace and quiet, relaxation, and a just little bit of magic, Molokai is the place for you.
On this portion of our site, you'll find all the information you need to make your trip to Molokai a memorable one. Bring your guidebook and your suntan lotion, and enjoy this, "The Most Hawaiian Island". Leave all your stress and troubles behind you. You won't need them here. All of Hawaii seems to live on its own time, but it just seems to tick away a little slower on Molokai...
---
We've provided the information contained on this site to help you have the best vacation possible. We believe that we all could use a little relaxation, and what better place than Molokai? Click on the links at left to visit other sections of this site, or the links below for tons of general information about Molokai.
---
Guides to Molokai
---
---
Molokai Photos
---
---
Molokai Weather & Climate
---
---