---
Molokai Dining Guide
---
Molokai is a beautiful and enchanting place, but it is not what you would call a culinary exhibition. The food on the island is primarily local cuisine, greasy and cheap. There is a noticeable abse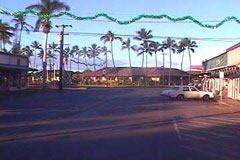 nce of chain restaurants on the island, except for a Subway in Kaunakakai. Most of the dining options on the island are in Kaunakakai and the hotels. The new hotels offer somewhat upscale (and expensive) dining, a previously unheard-of occurence on Molokai.
The Oceanfront Room at Hotel Molokai is probably the most popular restaurant on Molokai with the tourists, and rightfully so, with its beachfront location providing a romantic ambience. The Ohia Lodge in the Kaluakoi Hotel is rated by some as the best restaurant on Molokai,, and the Maunaloa Room at the Molokai Ranch is also popular with the tourists. The Molokai Brewery is the newest restaurant on the island, serving typical brewpub-style food.
Click here for Discounts on Molokai Pizza Cafe and more!
The Molokai Pizza Cafe is a popular eatery, located in downtown Kaunakakai (discounts available if you have the
Entertainment Book!), where you can also find
the Kanemitsu Bakery (where we had breakfast on our visit), Oviedo's Filipino Restaurant, Kamo'i Snack n Go, The Molokai Drive-In, the Pau Hana Restaurant, Sundown Deli, the dour Kanemitsu Bakery, the tiny Mrs. K. Concession Stand,the Ice House, and Outpost Natural Foods.
In Maunaloa, you can find the Village Grill (formerly Jojo's Cafe) serves standard steakhouse cuisine. In Kualapu'u, you'll find Kamuela's Kitchen, serving local-style meals. You'll also find the only espresso bar on the island here!
---
The links in the table below will help you find more information about the dining options on Molokai.
---
---