---
SWEDISH CRAWFISH PARTY
KRÄFTSKIVA 2005
SWEDISH CRAYFISH PARTY
---
Our Own Crawfish Party - August, 2005
This year was our first crawfish party here in the United States. We had been to many in Sweden, but now the challenge was on to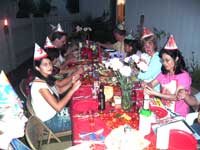 hold our own! We ordered up 40 lbs. of fresh, live crawfish from Louisiana. We ordered the "select" variety (average 6 inches), bigger than most Swedish crayfish, and had them flown in from Louisiana the day before the party. Unfortunately, when we got home, we realized that these were also not 6" select crayfish, they were only 3-4" long. We were very upset by this, but the party was the next day, so there was nothing we could do.
We boiled the crawfish that evening, all 40 lbs. of t
hem - half in the Swedish dill-style, and half Cajun style for those among us who may not prefer the dill. Our friends, Mei and Anjelica helped us all night as we cooked them up. Sandra's mother mailed us some additional crayfish decorations for our party, and we decorated and set up all day Friday and Saturday Morning. We had crayfish napkins, crayfish plates, crayfish hats and bibs, crayfish streamers, crayfish balloons, crayfish tablecloths, crayfish everything! It was quite a setup.
People began to filter in about noon or so, and we all ate sandwiches, barbecued pork, salad, mini-tacos, and other finger food to prepare us for the festivities to come. The competitions began at around 1:00PM, with five teams of four people competing for the famed Crawfish trophy:
Team A La King


Johann


King

Lynne

Jeannie

Team Cobras


Sandra

Brian L.

Jamie

Anjelica

Team Fried Chicken


John

Mei

Nicolas

Jean

Team American Flag


Matt

Brian B.

Dawn

Kiani

Team Texalinos


Craig

Dan

Mary

Denise
Team American Flag stormed out in front with an early Ball-In-The-Bucket all-star performance by Kiani, but were soon overtaken by A La King, who scored victories in the basketball game of Skål and Win Lose or Dra
w. A La King's lead was short-lived however, as they choked wildly with last-place finishes in each of the last two competitions, Bocce and Karaoke. American Flag scored a win at Bocce to tie for the lead going into the last round with A La King, but the Texalinos stormed from behind with a crushing victory in Karaoke, landing the coveted 2 point performance bonus thanks to Dan and Craig putting on the moves first to the Bee Gees' Stayin' Alive, and later in the tiebreaking round, to Michael Jackson's Billie Jean, earning them first place in the competition, followed by American Flag, A La King, Cobras, and Fried Chicken.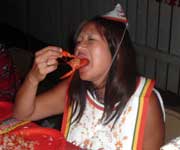 After the competitions, we set out to the Kräftbord (Crayfish Table) where Sandra instructed everyone how to eat crawfish and herring, and how to properly take snaps. We all drank, ate, and sang Swedish Drinking Songs until the wee hours of the morning. In true Swedish fashion, we had some casualties - one person got sick and two passed out - but a good time was had by all. The place looked like a tornado had struck when clean up time came! We still had a good 15 lbs. of crawfish left over at the end, so Sandra had a great time for days afterward!
See the Photos from Kräftskiva 2005!
Related Links:
Svensk Kräftskiva - The Swedish Crawfish Party
What You'll Need to Host Your Own Crayfish Party
Bertil on the Proper Swedish Way to Eat Crawfish
---