---
Eskilstuna & Torshälla
---
Sandra arrived in Torshälla, Sweden, a small suburb of Eskilstuna, from India when she was thre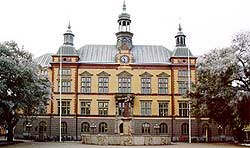 e months ted to the community of Torshälla/Eskilstuna and the people who created a place she called home. Eskilstuna is located in south-central Sweden, about an hour's drive west of Stockholm, in the län (county) of Södermanland. A bustling community of around 60,000 people (90,000 in the municipality), Eskilstuna was a center of trade beginning around the 12th century, but was not chartered until 1659. In the 17th and 18th centuries, its iron and steel industries grew rapidly, soon rivalling those of Sheffield, England. Eskilstuna is still one of the chief centers of the Swedish metal industry, with cutlery and precision instruments of particular importance.
Eskilstuna sits on the banks of the Eskilstuna River, providing a beautiful setting for a Swedish community. The city is centered around its downtown, as most European cities are, with very small suburbs. The city seems crowded, despite it's fairly modest size, but when one leaves the city limits,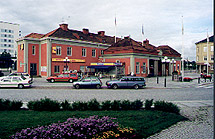 the difference is noticeable. Suddenly one finds themself surrounded by vast expanses of farmland, with only an occasional little red cottage or farmhouse with white trim dotting the horizon.
Torshälla lies only a couple of kilometers from Eskilstuna, nestled into the countryside with it's population of around 8,500. It was incorporated in 1317, and its church has stood since the 1100s. Sandra and her family grew up on a small street on the outskirts of town, where she lived all her life. You can see photos of her home in our photo gallery and in our various Eskilstuna photo pages.
The majority of the sites listed on this page are in Swedish, unless otherwise indicated. Many sites also offer all or part of their site in English. The English version of these sites is marked with

. Clicking on the button will take you to the English version, and the text hyperlink will take you to the Swedish version. Visit our Photo Gallery to see pictures of Eskilstuna and Torshälla, as well as photos of us during our trips to Torshälla in 1995, 1996, 1997, 1998 and 2000! Also see our page on Sweden for general information about the country.
For other information on Sweden on this site:
Soccer - Links to Swedish Soccer Players and Sites
Handball - Links to Swedish Handball Players, Leagues, and Sites
---
Eskilstuna Tourism
Education in Eskilstuna
Government
Hotels in Eskilstuna
Media in Eskilstuna
Museums & Exhibits
Restaurants & Dining
Fine Dining
Moderate
Cafes & Fast Food
Ethnic Cuisine
Sports & Recreation
Misc.
---