---
SWEDISH CRAWFISH PARTY
SVENSK KRÄFTSKIVA
SWEDISH CRAYFISH PARTY
---
Kräftskiva, or Swedish Crayfish Party (also Swedish Crawfish Party,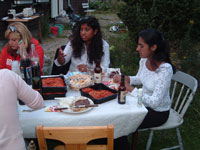 depending on what area you live in), is a Swedish tradition that takes place throughout the month of August every year. Crayfish have been a delicacy in Sweden since the 16th century. In the early 20th century, restrictions were introduced to crawfishing in Sweden, and the official season was not opened until August 7th of each year. Therefore, August became a month of crayfish feasts, where millions of Swedes partake in mass quantities of crawfish as a celebration of the opening of the season.
Today, crayfish are available year-round, but the tradition continues. At a typical Kräftskiva, many Swedes will gather to eat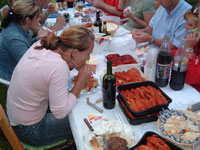 mass quantities of crayfish, marinated in dill, and take snaps (shots) while singing drinking songs until the wee hours of the morning. Swedes will often attend many a Kräftskiva during the month of August. The parties always take place outdoors, and are accompanied by all types of festive crayfish decorations, man-in-the-moon decorative lanterns, crawfish hats and bibs.
The typical crawfish party lasts many hours, from mid-day often until dawn the next morning. In the early afternoon, people play
outdoor games such as Boule (similar to Bocce). Then the crawfish are served! The host will usually lead the guest in a rousing rendition of Helan Går, (a drinking song that loosely translated means "here comes the first one"), followed by everyone sucking the dill out of the body of their crawfish, and taking a snaps of Aqvavit. This continues for hours, though the songs will usually change. After everyone has had their fill of snaps and crayfish, dessert is served - usually a fruit like strawberries and cream, or maybe a slice of cake. Afterward, everyone drinks some more, and usually ends up skinny dipping in a nearby lake.
We've celebrated many a Kräftskiva now, but only this year did we host our first one! You can visit it with us at the links below.
What You'll Need to Host Your Own Crayfish Party
Our own Kräftskiva - August, 2005
Our Photos from the Crawfish Party
Bertil on the Proper Swedish Way to Eat Crawfish
---