Our First Cabo San Lucas Experience
---
Arrival: November 6, 1997 Departure: November 9, 1997
For our second anniversary, we wanted to do something different. We had never been abroad together, except to Sweden, but that didn't count. We weighed our options, and decided on a little town at the tip of the Baja in Mexico called Cabo San Lucas. We didn't know much about Cabo at the time,
only that it had sun, sand and nightlife, and didn't take too long to get there from our home in Vancouver, Washington. That was about all we needed to know, and we were set to go.
We flew into Cabo on Alaska Airlines on November 6, 1997, and were surprised to land at the smallest jumbo-jet airport we had ever seen. At home, it seemed we had larger airports for single engine planes! They dropped us off in the middle of the runway (no gates or tunnels), and we exited the plane into the hot sun. It was about 80°F (27°C) and bright sunshine. We made our way to the airport arrival gate, and were in for a shock. Immediately, as we entered the airport, we were swarmed by hundreds of shouting timeshare hockers, screaming and hollering and mauling us. We were taken off guard and were confused. We didn't know where to go, or who all these people were. Through the chaos, our representative from our hotel found us and got us a cab.
Our hotel was Worldmark's Coral Baja resort, an RCI gold-crown affiliate. It was located near San Jose Del Cabo, about 20 minutes north of Cabo San Lucas. The hotel was very nice, thought partially under construction at the time. We had secured a two-bedroom penthouse suite, which constituted one main floor with the bedrooms, bathrooms, living room, and kitchen, and an outdoor spiral staircase leading up to the roof, where we had tables, chairs, a Jacuzzi, and a fabulous view of the Sea of Cortez. The hotel is located right on a beautiful beach, decorated with palms, and a gorgeous view of the sunrise.
We ate the first night at our hotel's restaurant, Mamma Mia's. It is a cozy palapa-style Italian restaurant located right on the beach, with live music and delicious food. The prices were very reasonable, considering it was at our hotel, and we loved it so much we ate there almost every morning and night! They delivered room service to our suite in the morning and we ate Mexican-style breakfast on the roof, while the sun rose over the water.
The ride into town was no big deal, as there was bus service all day directly into Cabo San Lucas, and the fare was only $2.50USD per person. The buses weren't in very good shape, and we were the only tourists on the bus, but it was quite convenient. Taxi service, although readily available, cost about $20USD one-way to our hotel, and the buses only ran until about 11PM. The roads were poor, with only one paved road through town, and back roads were mostly dirt with giant potholes. We rented a car one day to go around and sightsee at the Budget car rental stand at our hotel for around $70 for one day. Probably not the wisest investment, but driving in Cabo was easy, and the town wasn't too big, so it was easy to find our way around.
We spent most of our time in town, eating and drinking at everywhere we saw. As usual, the best values and food were at the small taco stands around town, and
the big-name and theme restaurants like Hard Rock Cafe and Planet Hollywood were the most crowded and most expensive. We found lots of palapa-style restaurants on the beaches, which were inexpensive and pleasant. Everywhere we went, however, we were hounded by wandering salesmen, either selling jewelry, t-shirts, blankets, roses, chiclets, songs, or timeshare, but we didn't really mind. It's not hard to simply say no thanks. We also rented a wave runner which was a blast on the wonderfully warm waters of the Sea of Cortez, however, the marina area was clogged with heavy sportfishing traffic.
We spent one night on the town, where we visited, and drank at, every club in town. We had a yard glass of beer and margarita at El Squid Roe, Cuban cigars and tequila at Cabo Wabo, beers at the Giggling Marlin (Sandra was too drunk to be hung upside down...), and danced and took tequila shots at Kokomo until everything closed up around 3:30AM. By this time, we were totally plastered and grabbed a cab home. Sandra was really gone, and ended up upside-down in the cab for the ride home, and upon arriving at the hotel, threw up at the doorman's feet, leaving a stain on the brand-new concrete of the Coral Baja. She passed out on the way up to our room, and woke up the next day with the worst hangover of her life. She couldn't eat the breakfast we ordered, and spent the entire day (on our anniversary) finding bathrooms to vom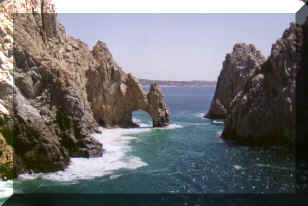 it in. We had planned that day for our water sports, a boat tour, and a water-taxi trip to Lover's Beach, but she couldn't do it. We did head out to Lover's Beach, but that didn't do her any good at all. She puked in the sand, and remained sick until late that night. We ordered a chef's salad from Mamma Mia's, which was fantastic, and that seemed to help.
That night we headed into San Jose Del Cabo to look around. We really liked this town, as it was calm, friendly, and cozy. There were few tourists, and no timeshare salesmen. A mariachi band entertained the locals in the town square, and we found a very nice restaurant with a secret garden out back. The atmosphere was great, but the food wasn't, and Sandra was soon feeling sick again halfway through her lobster. That was our last night in Cabo, and we headed out the next morning.
Overall, we had a great time in Cabo, mostly thanks to our hotel. The desert w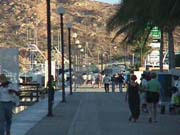 as not really our style, but the beaches were great and the water was warm. We don't sportfish or play golf, so we didn't experience that, but we understand both are among the best in the world. The town was small and touristy, with t-shirt shops lining the streets, but the nightlife was fun and the restaurants were inexpensive and good. We had never been to Mexico before, and we were pleasantly surprised with the friendliness of the town folk, and we knew we had to visit Mexico again. So, the next year we set off for Puerto Vallarta, and the year after that to Cancun and Cozumel. We really like Mexico, with its friendly and helpful people, laid-back style, and wonderful beaches and water.
---
For more information about Los Cabos:
Cabo San Lucas - Our Cabo home page, with descriptions, information and tons of links.
Cabo San Lucas Photo Gallery - Photos of our trip, including scenics, all thumbnailed for you.
Cabo San Lucas Message Board - Find and share information from all over the world about Cabo!
Visit Top 100 Travel Sites to cast your vote for Johann & Sandra's Cabo San Lucas!
---