---
Cozumel
---
Cozumel is Mexico's largest inhabited island, is also one of the country's biggest paradoxes. Serene, laid-back and somewhat undiscovered by Mexico's 20 million annual visitors, Cozumel rivals many Caribbean island destinations when it comes to visitor facilities, activities, and stunning beauty.
Cozumel's appeal lies with its combination of the best of Mexico with the allure of vacationing on a Caribbean island. This mix makes Cozumel one of Mexico's most unique destinations, offering a hard-to-find vacation duality.
The jewel shaped island lies just 19 kms. off of the Yucatan Coast, and measures 29 miles ( 47 kilometers) long and 10 miles (15 kilometers) wide. Its jungle-clad interior and ivory white beaches are girdled by one of the most spectacular ensembles of coral reefs in this hemisphere. The island's limestone shore is surrounded by temperate, crystal clear waters which range from stunning turquoise to deep indigo.
The climate on the island is warm year around with an average temperature of 81 F (27 C). Heavy rains start in June and go on through October. It is a possibility that rain can fall everyday, but the usual duration of a shower is brief. Expect high humidity during the rainy season. The humidity levels are lower November through May, with an occasional cool evening. However, because it a tropical climate, the weather can change from one day to the next.
The westward side of the island is calm, and is ideal for swimming, diving or just relaxing in the sun. This part of the island is also the most developed with banks, markets, shops, restaurants and hotels. The eastern side of the island is more secluded, with very few people living there and little activity. There are some calm beaches with clear emerald green water. There are at least 20 live reefs so close to the shore, it makes snorkeling and diving a must. The island also has it's share of Mayan ruins hidden in the jungles that can be explored by car, bike or foot.
The area's diving and snorkeling are legendary. Following a 1961 documentary by Jacques Cousteau, Cozumel earned a world-wide following of divers who ranked it one of the top five scuba diving and snorkeling sites on the planet. The island's surrounding sea is teeming with undersea life, colorful reefs, and the slumbering hulls of Spanish galleons.
For non-divers, the island has something for everyone. Sightseeing includes over 35 archaeological sites (only a few of which are accessi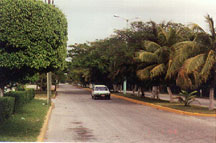 ble and worth seeing), and the charming city of San Miguel. The town is a collection of cafes, restaurants, and attractive boutiques. It encircles the main plaza, and extends several blocks along the city's breezy seaside promenade.
Nature lovers come to Cozumel to see giant see turtles laying their eggs (May to September) and to observe the island's variety of exotic migratory bird life. Visitors are only a 40 minute ferry ride from the incredible Tulum Corridor region of the Yucatan Peninsula, brimming with hidden beaches, secluded resorts and archaeological treasures.
Large numbers of daytrippers from Cancun and cruise ship passengers sometimes overtake the city proper, only to retreat a couple of hours later. This is when Cozumel really shines, as the island's bountiful man-made and natural attractions can be leisurely explored.
We flew into Cozumel on Christmas Day, 1999, aboard Continental Airlines. The weather was warm and sunny, about 80°F (27°C) as we got off the plane and headed across the runway area to the gate. Of course, right off the bat we were met by a guy who attempted to get us to attend a "welcome party" at the Reef Club (to get us to buy timeshare). We politely refused, and boarded the airport taxi on the way to our hotel.
Our Hotel was the Coral Princess Club, about 5 minutes drive North of downtown San Miguel, the only city on the island. The check-in went okay, though the cler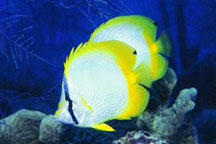 k didn't speak very good English. The staff at the Coral Princess Club was very polite throughout our trip, and the bellboy assisted us to our room. We had a gorgeous ocean view, overlooking the Caribbean Sea. The furniture in the room was coral-themed (what else?), and appeared a bit cheesy. The bed was hard and we noticed that the locks were missing from the bathroom and the connecting door to the next room. The room was nice, though and much more spacious than we had expected when we booked it through Resort Condominiums International (RCI). The hotel is located on a beautiful stretch of palm-lined road, with a man-made beach built over rugged coral outcroppings which were great for snorkeling.
The first night, Christmas, we ate at our restaurant, El Galeon. Sandra had some chicken fajitas, covered with cheese, which were very tasty. I opted for the Christmas Dinner special, which was unimpressive and quite a rip-off. Overall, El Galeon was decent. The prices were a bit high (to be expected in a hotel), and the food was decent. We examined the room service menu and were shocked to find tropical drinks costing 99 pesos ($11USD)! We went down to the poolside bar and they were just as much down there! We ended up having a beer at happy hour one day for 2x1 and a total of $4USD. That means they were normally charging $4USD for one bottle of beer! Ridiculous.
The next morning, we set out into town. We were scheduled to meet with our dive shop, Dive With Martin, at the international pier at 10AM. We stopped by SMART Rentals to rent a VW Convertible. We had seen SMART Rentals on the internet before our trip and had printed out their webpage to receive 50% off our car rental. It ended up being about $25/day for our convertible bug. We thought that was a great deal, considering other agencies were advertising $50/day or more. The only real problem with the car was a sunshield strip on the top of the windshield that was really hard for me to see through. I had to scrunch way down in the car to see where I was going. No big deal, though. One time we came back from walking around town to find our car missing! It turned out that we had parked in a no-parking zone and the police had asked our rental agency to move it. Boy were we relieved.
No, I'm not going to take you on a minute-by-minute account of our trip. (I know...darn...) The rest of this area of our site will give you an overview of our experiences during our stay in Cozumel. Also check out our Cozumel Links.
---
Cozumel Diving - This part of our site details our scuba diving experiences while in Cozumel.
Dining - Our guide to where to eat and not to eat in Cozumel.
What to Do - An overview of activities in Cozumel, including nightlife.
Photo Gallery - Photos from our trip to Cozumel, all thumbnailed for your convenience.
Snorkeling - Our description of how snorkeling went, along with photos of what we saw.
Cancun - Our guide to Cancun, complete with photos and links.