---
Vancouver, USA
---
Vancouver, Washington is our hometown. I have lived there for 26 years, and Sandra for 9. Vancouver resides just across the river from Portland, Oregon and provides a perfect location. The city is 5 minutes from our house, yet seems so far away.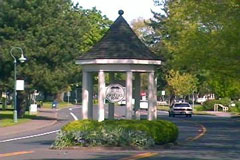 From Sandra's school, you are surrounded by mountains, as Mt. Adams, Mt. Hood and Mt. St. Helens are always there, and on a clear day, you can even make out Mt. Rainier in the background. In 1957 and 1987, Vancouver was voted an All-American city, and remains one of the best places to live in the United States. Clark County is one of the fastest growing counties in the Northwest, and our local Evergreen school district added more students in 2002 than the Seattle, Spokane and Tacoma districts combined! We have had an influx of technology, with Sharp, Hewlett Packard, Kyocera Industrial Ceramics, WaferTech, and SEH America comprising some of our areas largest employers.
Vancouver sits on the north bank of the Columbia River directly across from Portland, Oregon. The Pacific Coast is less than 90 miles to the west. The Cascade Mountain Range rises on the east. Mount St. Helens National Volcanic Monument and Mt. Hood are less than two hours away. The spectacular Columbia River Gorge National Scenic Area lies 30 minutes to the east. Vancouver combines the excitement of a major metropolitan area with small-town charm and abundant recreational opportunities
Vancouver enjoys mild weather, with less average
annual rainfall (41.3 inches) than Boston, Washington, D.C. or Atlanta. Seasons are distinct. Summer temperatures generally climb into the 80s. Winter nights rarely fall below 30 degrees Fahrenheit, with our average annual snowfall a modest 6.5 inches. Our moderate climate results in lush forests and abundant foliage. Springtime explodes with blossoming trees and shrubs.
In May, 1792, American trader/sailor Robert Gray became the first non-native to enter the fabled "Great River of the West," the Columbia River. Later that year, British Lt. William Broughton, serving under Capt. George Vancouver, explored 100 miles upriver. Along the way, he named a point of land along the shore in honor of his commander.
In 1806, American explorers Meriwether Lewis and William Clark camped near the Vancouver waterfront on the return leg of their famed western expedition. Lewis characterized the area as "the only desired situation for settlement west of the Rocky Mountains."
Our town wa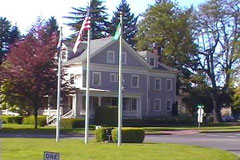 s first incorporated in 1857, well before statehood in 1889, and is the oldest permanent, non-native, settlement in the Pacific Northwest, being founded in 1825. During the civil war, Officer's Row in Vancouver (photo above) was home to General Ulysses S. Grant, General George McClellan, General Phillip Sheridan, and General George C. Marshall, among others, all of whom served at the Vancouver Barracks. Their homes are now office buildings, townhomes, museums, and cafes.
Vancouver is also home to the world's oldest living apple tree, planted in 1826. It is home to the first saw mill in the Pacific Northwest (1827), and the oldest public square in the Pacific Northwest, with Esther Short Park being founded in 1855. Pearson Airpark, founded in 1905, is one of the oldest continually operated airports in the United States, and was the landing site of the first transpolar flight in 1937.
Vancouver is now a thriving community of 143,560 (2000 Census), making it the 4th largest city in Washington. For more information about Vancouver, try the links below.
Photos of Vancouver, Washington See us in our hometown.
The Vancouver Directory Links to everything Vancouver
---