---
Cancún
---
For decades, vacationers heading to Mexico's renowned beach getaways had to look no further than a string of sunny resorts along the Pacific Coast. From Mazatlan to Acapulco, Mexico's Riviera was the only region with any developed visitor attractions and facilities.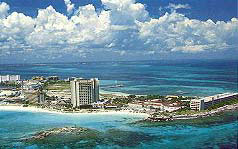 Then, in the late 1960's, the government took interest in a remote sandbar on the eastern shore of the Yucatan Peninsula. The resort of Cancun (kahn-KUHN) was born, transforming not only a frontier region of Mexico, but also Mexico's identity from a "Pacific Coast-only" destination.

It all started in 1967 when the Mexican government, recognizing the importance of tourism to the country's economic future, began a detailed search to pinpoint ideal sites for tourism development. Cancun emerged as the government's top candidate. Still, the new resort reached the 1980's as a relatively small and undiscovered destination with a dozen or so hotels. A building boom in the mid-1980's finally vaulted Cancun into the global tourism arena as THE resort of the '90's.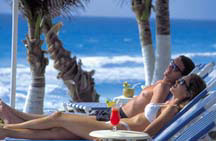 From ruins to riches, Cancun has it all, offering an exotic, tropical island setting buoyed by modern comforts and conveniences. In fact, it's hard to imagine a site better endowed with natural, cultural, and man-made attractions. Technically an island, Cancun's resort zone is a 22.5-km-long slender ribbon of sand, shaped like the number seven. Its stunning beaches must be seen to be believed: silky smooth, sugar-white sand, lapped by the turquoise and emerald waters of the Caribbean.
Cancun is comprised of three distinct but integrated areas: the City of Cancun, a raffish boomtown of 300,000 people, popular for shopping, dining, less expensive accommodations; the ecological reserve -lovely lagoons and mangroves; and the resort zone, an island. Development is designed around an ecologically-sensitive master plan, divided into three phases. Phase two is completed; phase three will include two mega-projects: a new 1,500-slip marina/resort complex to the north of Cancun City (Puerto Cancun), and a 170-acre lagoon resort complex (Malecon Cancun). A well-planned layout and modern infrastructure give the destination a polished (although mostly un-Mexican) appearance.


The area's history is rich with Mayan influences. The Yucatan Peninsula is where Mayan culture flourished for centuries prior to the Spaniards' arrival in 1519. Over 1200 archaeological sites are scattered within a few hour's drive from Cancun. Many sites have been wonderfully restored, while others are still shrouded by tangled jungle vegetation. Even Cancun's ultra-modern resort zone harbors ruins dating to the 12th century. Popular day tours to sites like Tulum, Coba, and Chichen Itza afford visitors the opportunity to appreciate the work of one of the world's most advanced ancient societies. Beyond the area's famous ruins, the Mayan culture has survived despite tourism's rapid encroachment. In fact, much of Cancun's population is of Mayan descent.

With natural and cultural wonders as a backdrop, developers have built Mexico's most dazzling offering of creature comforts. Recent lodging improvements (there are over 20,000 hotel rooms) include the opening of the Caesar Park Beach and Golf Resort (Cancun's largest and supposedly last resort development), and the debut of several in-town properties that cater to budget-minded visitors. The conversion of several hotels into all-inclusives and quasi all-inclusives (free food/beverage without activities) is also of note. Cancun timeshare is also on the rise, although roaming salespeople have had their wings clipped by a recent ban on street sales solicitations.

Recent additions to Cancun's entertainment attractions include a state-of-the-art Convention Center, a $30 U.S. million facility with over 150,000 sq. ft. of meeting space, and the Cancun Queen, a Mississippi paddle-wheeler and an the Jai Alai Cancun sports complex with betting and dining


Shopping is top notch, with over a dozen American-style shopping malls. Dining options (there are over 200 restaurants) include every imaginable fast food chain along with gourmet seafood, Asian, Caribbean, American and Mexican specialties, to name a few. Outdoor recreation - water sports, in particular - is first rate. Sports enthusiasts can choose from AquaWorld (a new water sports center), a new 18-hole golf course, and several water-bound adventure activities (submarine rides to fishing to Jet ski tours).

For adventure seekers, the area abounds with sightseeing treasures. Stretching 480 kms. to the south along the Yucatan's eastern shore is the Tulum Corridor region. Also known as the Costa Turquesa, this scenic and unspoiled coastal zone is emerging as one of Mexico's newest resort playgrounds. Several new all-inclusive properties have opened, and there's still plenty of off-the-beaten-path exploring. Dozens of remote coves and deserted stretches of jungle-lined white sand beach are easy to reach. There are also many archaeological sites here, ranging from magnificent, fully-restored ancient cities to mysterious, unexcavated ruins.

Cancun succeeds in combining the best of Mexico and the Caribbean into one package. And while some dislike the resort for its immense size and unabashed commercialism, there is no denying the area's seductive appeal.
We first hit Cancun on January 1, 2000. Check out our Guide to Cancun, as well as our photo gallery of our trip. You can also check out our Cancun Directory for a host of Cancun links you will find useful as you plan your trip including finding a hotel in Cancun. You can also find lots of pictures and information on our site about scuba diving in Cancun and Cozumel, as well as snorkeling. You can also visit our sites on Cozumel, Cabo San Lucas, and Puerto Vallarta to find out more about Mexico, or you can check out our new Cancún Message Board to find and share information about Cancún.
See also: Cancun Tours and Playa del Carmen Tours
---