---
Mountain Biking
---
We first made the decision to pick up mountain biking in 2001. It looked like a lot of fun, great exercise, and a good excuse to hit the trail! We set out to find bikes that suited our needs without setting us back too much until we figured out if we liked it or not.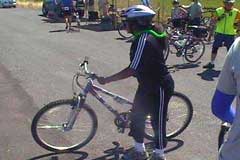 I opted for a Royce Union Crimson AL-8 with a lightweight aluminum body, SR Suntour front suspension, Shimano derailleurs and shifters, which has turned out to be a good deal for the money. The first thing I did was add a handlebar lift kit to it, though. An aluminum mountain bike for less than $350 is hard to beat. It's taken a bit of abuse so far, and I've only busted one crank arm and bent a pedal. No serious damage. The gears don't shift that smoothly, but I think a good coat of grease should help things out.
Sandra chose a GT Palomar, which featured a steel frame, but grip shift, a comfortable seat (I'm jealous!), SR Suntour M7700 Front Suspension, and a Shimano Dual 515 Shifter. She is very happy with her bike, and remarks that she doesn't even feel the bumps in the trail.
We rode the Summit to Surf from Mt. Hood to Hood River, Oregon, this July. For pics, click here!
We've only been a few times so far, but we'll post our trail reports and photos here. To view more pages on mountain biking, click on the links at left.
Visit Top 50 Sports Sites to cast your vote for Johann & Sandra's Mountain Biking!
---