---
Scuba Diving
---
Scuba Diving is a sport w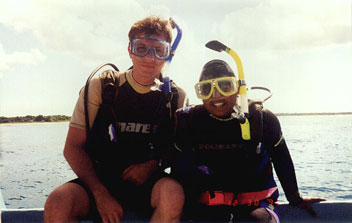 e just picked up when we decided to travel to Cancun and Cozumel for the millennium. It would seem like blasphemy to travel to Cozumel, home of the world's greatest drift diving and, at times, 200+ feet of visibility, without trying diving. So, we attended our open-water training course through Thunder Reef Divers in Vancouver, Washington (A PADI 5-star facility) in September, 1999. The bookwork breezed with PADI's CD-ROM tutorial, though there was sure a lot more to know than we had expected! The confined water training took place in Thunder Reef's own swimming pool, which was no big deal, except that I couldn't clear my ears! I have allergies, a divers nemesis, and at this point I had not yet discovered Afrin! We passed, though, and headed up to Les Davis Marine Park in Tacoma, Washington for our open-water training in Puget Sound.
The water was unbelievably cold, with temperatures in the 40s underwater, but we were adequately protected by 11mm 2-piece wetsuits, hoods, gloves and boots (We've gotta get dry suits, though!). The visibility was poor, since we were milling around on the silty bottom, sometimes nonexistent. When we got moving, I had trouble again clearing my ears and found myself drifting away from everyone else! When we found them, we swam around for a little while, adjusting to our first underwater experience. We saw crabs, huge anemones, and a few fish. Kind of cool, but nothing to get too excited about. While swimming, visibility was never more than 40 feet or so, usually quite a bit less. But, we passed and were psyched up to visit Cancun and Cozumel in December! Check out the links at left for reviews of the reefs and reports of our trip!
We just returned from diving in Hawaii, off the islands of Lana'i, Maui, Kaua'i, and the Big Island. We dove with manta rays, sharks, turtles, and dolphins, along with hundreds of other sea creatures in the beautiful waters of Hawaii. We're working on web pages for those trips as we speak. Following that will be our latest trip: the Florida Keys! Don't forget to check back!
Aside from photographs of our trips, we have included links to diving-related sites of the Northwest and others that have proven to be valuable to us in our research of what equipment to buy and where to go. You can visit these in the Northwest Scuba Directory.
Visit Top 50 Sports Sites to cast your vote for Johann & Sandra's Scuba Diving!
---