---
Diving Cozumel
---
Cozumel, Mexico is home to the world's second largest coral reef, and perhaps the best drift diving in the world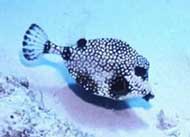 . Visibilities here range over 200 feet, and the water never strays far below 80°F. Home to over 100 dive shops, Cozumel is Mexico's only Caribbean island. For more information about Isla De Cozumel, and photos from our trip, please visit our Cozumel page. This page will focus on our diving experience. For other diving information, you may want to check out our scuba page, our snorkeling page,or our Playa Del Carmen page. For these dives, water temperatures were generally about 80°F on the surface, and about 75° at depth. I wore a 3mm shorty and Sandra wore a full 3mm wetsuit. We were quite warm, though on the deeper dives, especially the drift dives where we weren't moving much, I got chilly at the end. Air temperatures were in the low 80's all week and the water was placid and clear. Just beautiful.
We arrived in Cozumel Christmas Day, 1999, and stayed through the Millennium. We opted out of any millennium dives, as we were flying to Cancun on New Year's Day. We chose Dive With Martin as our dive operator, as they offered good packages at good pri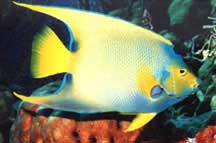 ces. They shot an underwater video for us and included dive computers and equipment in their prices. Dive With Martin had very fast boats with no more than 8 people (usually six), and well-maintained equipment. They offered unlimited shore diving from their dive shop at the International Pier, a free night dive, and had friendly and helpful staff. The boat operators generally allowed us to choose where we wanted to go, and other boats made trips clear to the east side of Cozumel for some (apparently) really great diving. These were to be our first boat dives after receiving our certification and we were a bit nervous, but the divemaster helped us out and everyone was patient. Overall, we thank Dive With Martin and our divemaster, José, Jesus and Scott for their part in making our stay very enjoyable, and we highly recommend them to anyone.
Choose a link from the table below to visit our experiences on each reef, or click here to see our photos of our dive trip in Cozumel.
---
Cozumel Diving Links
---
Dive #1 International Pier (Dive With Martin Dive Shop) 12/27/99 Depth: 25-30 feet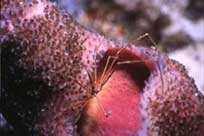 This dive was a shore dive, primarily made to inspect our equipment and rehearse our skills before going on a boat dive. We checked our weights and hand signals and everything seemed okay. We didn't actually make it all the way out to the pier, where we're told there is a lot to see, but it served our purpose. On the sandy bottom were several species of sponges, a few grunts and other fish, and one really weird-looking arrow crab. Visibility here was probably only 60 feet or so, with some surface chop and 80°F water. Bottom time was about 50 minutes.
---
Dive #2 Yucab Reef 12/27/99 Depth: 50 feet
This was our first boat dive, so we were a bit nervous, and my ears didn't equalize well at all. Unlike diving in Puget Sound, however, I could keep an eye on everyone else while I descended, even though they were as much as 110 feet down. I was really nervous about getting separated from the group, but it was no problem at all. This dive was a drift dive with a m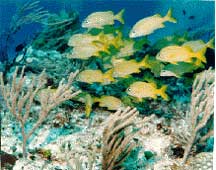 oderate current. We spent a lot of time keeping track of each other and I missed a good portion of the dive trying to descend, but it was still fun. A large portion of our dive was spent getting used to our buoyancy and equipment and just exhilarating at the underwater world. Yucab is a large reef on one side with a deep wall on the other. We stayed at about 50 feet or so (conscious of our open-water certification), while other divers descended a bit deeper. The reef was alive with fish, especially butterfly fish, remora, parrotfish, and grouper. The reef itself was nice, with a large assortment of sponges and sea fans. We also saw a great barracuda, over six feet long, looking at us. That made us a bit nervous, as we were only fifteen feet from it, but it just hung out. Our bottom time was 52 minutes, and visibility was over 100 feet, which was great at the time, until we saw what other areas Cozumel had to offer...
---
Dive #3 Las Palmas Reef 12/27/99 Depth: 60 feet
After stopping at a
beach-side restaurant for lunch, we made our way to Las Palmas Reef, which was similar in constitution to Yucab, with the primary difference being that it didn't offer the deep wall dive that Yucab did, and that we were much more comfortable now. We got a fabulous view of a spotted eagle ray in the distance. They are so graceful and beautiful... We also saw huge clams and lobster (5-6 feet), spotted moray eels, lots of featherduster worms, an array of sponges, and lots of grunts and parrotfish. After we had ascended to our 15' safety stop, other divers reported seeing small reef sharks down below, but we didn't get to see any. Bottom time was 51 minutes with visibility again around 120 feet.
---
Dive #4 Santa Rosa Wall 12/28/99 Depth: 65 feet
The next day, we set out again, this time to Santa Rosa Wall. Our guidebook spoke highly of Santa Rosa, so we were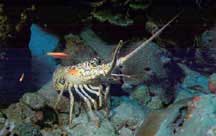 excited. This was our first wall dive, so we didn't know what to expect. On this day, descent was easier for me, as my ears were adjusting to being equalized, although I had a bit of hearing loss after rupturing a few blood vessels on my eardrum the day before. We backrolled off the boat and were soon surrounded by incredible beauty. The coral which had attached itself to the wall was fabulous. Sponges, Anemones, Sea Fans, Sea Cucumbers, Angelfish and other gorgeous neon-colored fish abounded, and simply overwhelmed us. Sandra was a bit afraid to approach the wall, and struggled a bit with the current, but close to the wall the cu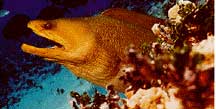 rrent was perfect. It was enough to carry you, but calm enough that you could thoroughly examine whatever you wanted. There were crabs running in and out, moray eels hiding in the crevices, and just about anything you could want to see. At the end of our dive, as we began our ascent, we ran into another great barracuda. He was a little smaller than the last one, this one only measuring 4 1/2 to 5 feet, but he looked hungry. Then, as a school of grunts enveloped us and the barracuda, and he just sat there, we realized that they just always looked like that! This was a fantastic dive, one of our favorites. I would do this one again in a heartbeat. This wall is as deep as you want to go, and visibility is easily 150 feet.
---
Dive #5 Paradise Reef 12/28/99 Depth: 45 feet
For our shallow dive of the day, we chose Paradise Reef, which was close in to the shore and a popular site for night dives. We were a bit skeptical of this dive at first, as we approached it and saw a lot of dive boats all around, but we were pleasantly surprised. Tropical fish wer
e everywhere, and the reef was just a flurry of activity. Although the reef itself was rather short, the current was mild, and you could thoroughly explore the ins and outs. We saw large crabs, some huge triggerfish, a scorpionfish camouflaged in the reef, some huge shrimp, and just about any variety of fish you can imagine. Butterfly Fish, Squirrelfish, Angelfish, Parrotfish, Grunts, and more were absolutely everywhere. After drifting past the reef, we encountered a sandy bottom with patches of reef. Although the fish life diminished greatly here, we saw a number of flounder, hermit crabs, and an enormous Snapper (6-8 feet long). The snapper had really big teeth and was checking us out, so we moved on quickly... Visibility was over 150 feet, despite the popularity of the site, and our bottom time was about 51 minutes.
---
Dive #6 The Tiles (Palancar Deep) 12/29/99 Depth: 100 feet
This dive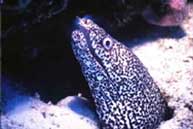 was aimed more at seeing larger marine life than fish, and our group went pretty deep. We weren't certified for this, but we stayed close to the divemaster. Sandra was very nervous on this dive, aside from being 100 feet deep, the vastness of the open ocean on the far side of the reef was spooky, as it was so deep you couldn't see the floor, and fish life was scarce. "Perfect Shark Water", she insisted. The reef was amazing in i
ts formations, and there were caves and tunnels throughout the reef that we explored, thoroughly freaking Sandra out. We d I think we would have enjoyed it more if we were certified to that depth, so we weren't guilty, and Sandra was more comfortable.
---
Dive #7 Paradise Reef 12/29/99 Depth: 40 feet
It was back to Paradise Reef for our second dive. We had already been to Las Palmas, and the other couple we we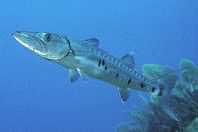 re with had been to Chankanab, but nobody but us had been to Paradise yet. This was so far Sandra's favorite dive, as it was calm, lots of fish, and not too deep, so we all headed off there. Again we were swarmed with millions of fish, especially grunts, angelfish, butterfly fish, parrotfish, and squirrelfish. We again encountered our friend the Giant Barracuda, who again did nothing, and saw several huge lobster and crabs. Sea Cucumber many feet long and lots of flounder also flourished. This time we spent most of our time on the reef, looking in and out and chasing schools of fish. Another good dive, but we had to move along, as another group of divers was approaching. Visibility was again over 150 feet, and this dive was a lot of fun. Bottom time was 49 minutes.
---
Dive #8 Palancar Horseshoe 12/30/99 Depth: 75-90 feet
Wow. Gorgeous reef formations all around us and fabulous fish life. Visibility ranged over 200 feet at the beginning of the dive, diminishing down to around 100 feet toward the end,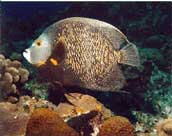 where the fresh water runoff was entering the salt water, bringing the previously 80°F water down to 65° in places. That was a shock! But this was a dive where you could have just sat in one place and screamed "WOW!" and still had a good time. We didn't see that much in the way of large sea creatures, but a large variety of fish life abounded at all depths, which could be as shallow or as deep as you desired, and tunnels in and around the incredible formations of reef were fun, and this reef area was unlike any other we had seen. A great dive, with bottom time around 51 minutes, and a beautiful sunny day when we got topside. We stopped at a beach for our surface interval (complete with topless sunbathers), with a really beautiful jungle. Probably my favorite dive.
---
Dive #9 Dahlia 12/30/99 Depth: 40-60 feet
This reef was s
warming with activity. Beautifully-colored fish swarmed everywhere. We found a cave with 8 or more giant lobster, and another with an octopus trying to cover himself with hermit crabs. The current was moderate in this area, and although you could swim against it to look at certain things, it was a bit too strong for our liking. We ended up just floating over the reef, admiring the plethora of fish life. Visibility was well over 150 feet and the water was warm. Bottom Time: 51 minutes.
---
Unfortunately, that was our last dive in Cozumel. I wanted to do more, but we just didn't have enough time. We did, however, enjoy some really good snorkeling at our hotel, Coral Princess Club, and some more at Chankanaub. We never got to see Columbia Reef, where other groups were sighting sea turtles, or anything on the easterly side of the island, but for our first diving trip, it was great. Cozumel was everything we'd heard it was and more. We had said that this would be our last trip to Mexico, but after seeing the reefs of Cozumel, I'm not so sure...
For information about our trips to Mexico:
Playa Del Carmen Scuba Diving at Barracuda Reef (XCaret Caves)
Cancun Mexico's Caribbean Coast
Cozumel La Isla Bonita
Puerto Vallarta Mexico's Pacific Coast
Cabo San Lucas The Desert and the Sea of Cortez
Please Visit Top 50 Sports Sites to cast your vote for Johann & Sandra Dive Cozumel!
---