---
Helena, Montana
---
From October, 2001 until Thanksgiving, we stayed in Helena, Montana, during a surveying project for the Federal Highway Administration. While most of our trip was spent working, we did have some chance to absorb the ambience of Helena and the small town of Rimini, where we were working. We stayed throughout our six-week stay at the Days Inn, where they serve hot breakfast free with your room each morning. That can go a long way toward making a lengthy stay such as ours bearable. Thanks to the staff for making us feel at home! Each Saturday, we took the day off work, and explored the area.
Statistics
We noticed a distinct lack of ethnic diversity here, as 95% of the city's 25,780 residents are white. This population has remained rather constant since 1990, when the census showed 25,070 residents. Adding in the surrounding valleys increases the population estimate to around 50,000. At an elevation of 4,157 feet, its location on the Eastern slope of the Rockies yields average high temperatures of 83 degrees in July and lows of 9 degrees in January. Temperatures have been recorded here from 105 degrees down to -42 degrees. June is the "wettest" month with only 2.0 inches of precipitation.
History
Founded in 1864 when a foursome from Georgia found gold along the creek in Last Chance Gulch, by 1870, Helena was a thriving mining boom town. In the late 1800s, Helena was home to more millionaires per capita than any other town in the United States, some say the world. This early wealth shows in the incredible architecture and fashion of the ancient buildings which abound h
ere. The Four Georgians who struck gold here in 1864, named the town Last Chance Gulch, a name that now refers to the main street through town, and in general the downtown Helena area. After striking out in their prospectorial attempts in Virginia City and Alder, they camped on the gulch by the creek, and stated that this was their last chance to find gold. When they dug into the banks of the creek the next day, they struck it rich, and the name Last Chance Gulch remains today. As the city grew, the people decided they needed a new name for the town. After turning down names like Tomah (after an Indian Chief whose name meant "Game Pocket of Good Hunting Place), Squashtown, and Pumpkinville (because the naming took place just before Halloween)
, they settled on Helena, after a town in Minnesota. The accent was originally on the last syllable, but by 1882, the official name was created.
In 1875, Helena became the capital of Montana after a bitter duel with Anaconda, replacing Virginia City, however Montana was not admitted to the Union as the 41st state until 1889. By 1880, Helena was home to over 3,000 residents and was a thriving community. In 1883, the Northern Pacific Railroad came to town, bringing with it increased commerce and population. Within a few years, Helena's population had quadrupled. Wealthy miners built lavish buildings, and fantastic mansions, as thousands of people flocked to the town to pursue their fortunes. Helena's prosperity was short-lived, however, as the federal curtailment of annual silver purchases ground the town's economy to a screeching halt. The emphasis of the economy turned to government and banking, as the town's location made it an ideal redistribution point for other mining communities.
No stranger to hardship, Helena has endured its share of disasters. In October, 1935, Helena was hit by a barrage of several hundred earthquakes, causing over $4,000,000 in damage, quite a sum in those days. Most buildings were damaged, and many collapsed, including Hel
ena High School. Computer estimates say that if just one of the several quakes 6.0 and up hit Helena today, the damage would be over $1 Billion. Helena suffered four major fires in the first few decades of its history, as well. Three major fires struck the town in 1869, the worst of which caused over $1 million in damages. Two years later, another fire burned the breweries and newspaper building, followed by the Northern Pacific Hotel Fire which burned six city blocks. In 1874, another fire burnt Main Street, Wood Street, and Bridge Street, and in 1928 lightning-induced fires scorched large parts of town, causing $1.5 million in damages. Forest fires also tormented the area. In 1949, the Mann Gulch fire burnt 13 smokejumpers, and in 1988 the Canyon Creek fire scorched 247,000 acres before the snow snuffed it out. A second blaze erupted that year, burning 47,000 acres, and in 2000, the Canyon Ferry area was torched to the tune of 44,000 acres. Fires also consumed the Montana Club building, the Montana National Bank, and the B.C. Brook Building at various times.
Today, Helena's biggest claims to fame, sadly, seem to be the Unabomber, Ted Kaczynski, and the attacker of President Clinton, Russell Weston, both of whom made residence on the outskirts of town.
Sights and Attractions
The biggest attraction that Helena has to offer is its rich history. Streets are lined with 1800s buildings and homes richly restored and occupied today. The architecture is pristine, and each building has a story behind it. See our photo gallery for more information on some of the 35 buildings listed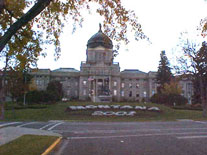 in the National Register of Historic Places. You can see which buildings these are by visiting the Register and typing in Helena. For more photos and history of the town, check out our Photo Gallery. We found the lack of chain stores and restaurants and strip malls to be very refreshing.
Most other activity here takes place in the area of recreation. 1300-foot Mt. Helena towers over Last Chance Gulch, offering numerous Mountain Biking and Hiking trails. The surrounding forest land offers excellent hunting, fishing, skiing, and snowmobiling. Canyon Ferry Reservoir and Hauser Lake are popular destinations, as is Great Divide Ski Area.
Overall, the life here is quiet and cozy, and far from exciting. During our stay, after we had taken enough photos of the area, we found our day off to be lacking in adventure. As we weren't vacationing, we weren't prepared for outdoor adventure, and town was rather subdued.
Dining and Nightlife
We found most Helena restaurant fare to be quite pricey, which surprised us a bit. For ethnic cuisine, Toi's Thai on Last Chance Gulch offers excellent fare for decent prices, and the chef comes out to meet the customers. On Broadway and Salvatore's Trattoria are both e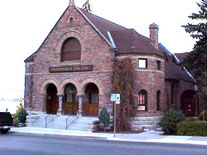 xcellent Italian restaurants, serving healthy portions, though both are a bit spendy. Carriage House Bistro is a fantastic example of French Bistro fare, and the Stonehouse restaurant serves fine Steak and Seafood. Jade Garden is the place to go for Chinese food, and Wok and Roll is a fine choice for Japanese food and sushi. Mexican food was average at best, and most of the restaurants in town were generic family-dining-style food. We did enjoy Coney Island, a sandwich shop that also serves Mexican food and hot dogs, and the No Sweat Cafe, a hippie hangout with organic breakfasts that dreams are made of. Just be prepared to wait for your food! For hanging out and enjoying good espresso, the Country Mercantile offers a really cool old-west feel, with board game tables, and quaint merchandise. Also thanks to the Green Iguana and their Vienna Blend for making each day bearable! The Real Food Store offers an organic deli, along with their grocery stock, as well.
Nightlife is limited to casinos and saloons, but Moose Magoo's, Miller's Crossing, Bullwhacker's, Woodpecker's, and the Rialto seemed to be popular. The Brewhouse Brewery is Helena's only brewpub, but Blackfoot Brewery has a nice little tasting room. There are also numerous theater groups which put on presentations at the Myrna Loy Theater, Grand Street Theater, and others.
Rimini
Rimini, Montana is named after Francesca da Rimini, made famous in Dante's Inferno as an adulteress who was punished with her lover, Paolo. In reality, she was the 13th century daughter of Guido da Polenta, Lord of Ravenna. She was married to Giovanni da Rimini, son of the Maletesta. Giovanni was reputed to be a brave but deformed and hateful person. Having discovered his wife in a compromising position of criminal intimacy with his own brother, he had them both killed. This story ha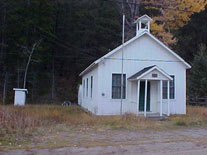 s become the subject of a number of poems, plays, paintings and operas. It was in enthusiastic appreciation of one such opera presented in Helena that the town of Rimini was named.
We spent the full six weeks working on Rimini Road, enjoying glimpses of moose, mule deer, and foxes during our stay, as well as some incredible rock formations. The town of Rimini, population 30, was once an active mining community. Now, the mines are closed up, the town is a superfund site, and its biggest claim to fame is that Russell Weston, the man who tried to assassinate President Clinton, gunning down two secret service agents in the process, made his home there. Just a few miles away, Unabomber Ted Kaczynski holed up in his now infamous cabin just a few miles away.
Ten Mile Creek, running along Rimini Road, is the primary source of water for Helena. It and the surrounding soils are badly polluted from the radon mines, and others. Residents have to have bottled water shipped in by the EPA, and DEQ is conducting major earthwork to strip Rimini Road of its contaminated soils, and is attempting to make Ten Mile Creek safe once again. We've put together a Rimini slide show, with images of the town and surrounding area.
---