---
Las Vegas
---
We've visited Las Vegas twice, once in November, 1995, when we got married there, and once in June, 1999 with Sandra's family. The first time, we stayed at The Mirage, where Sigfried & Roy perform nightly. The Mirage is a beautiful hotel and casino on the strip where a volcano erupts nightly over its waterfalls and dolphins swim in a private swimming pool. On our second trip, I won $1200.00 on the slots at the Mirage, too! The next time, we chose the Monte Carlo hotel and casino, which was very elegant. The theme could have been played up a bit, but the hotel was nice and the casino was grand.
We have visited m
ost of the hotels on the strip during our stays, but have only seen one show so far, Jubilee, at Bally's. The show was a true Las Vegas-style revue with topless showgirls, magic, and great special effects. We all had a great time. We rode the Big Shot, the slingshot ride on the needle of the Stratosphere hotel and casino, where you are shot from zero to 45 miles per hour from the 921 foot level to the 1,081 foot level in 2.5 seconds, and then you free-fall back down. You hit 4 G's on the way up, and 0 G's as you float out of your seat on the way down. The ride was pretty cool, since you were actually outside on the roof, so you got the feeling of shooting off into space. You can check out our Las Vegas Photo Gallery for photos of us on the Big Shot, and all around Las Vegas.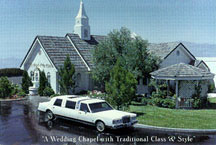 Las Vegas plays host to well over 30 million visitors a year, and 120,000 people get married there every year. We were married at Little Chapel of the Flowers, where Dennis Rodman and Carmen Electra were later married. Other famous couples who were married in Las Vegas include Richard Gere and Cindy Crawford, Jon Bon Jovi, Dudley Moore, Jane Fonda, Paul Newman and Joanne Woodward, Kirk Douglas, Mickey Rooney and Ava Gardner, Mary Tyler Moore, Frank Sinatra and Mia Farrow, Judy Garland, and of course, Elvis and Priscilla Presley. For photos from our wedding and reception, check out our We Get Married page!


---