---
New York City
---

Arrival: December 2, 1999 Departure: December 6, 1999
For Sandra's mother, Kristine's, 50th birthday, we wanted to do somet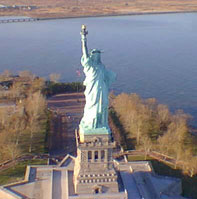 hing special. We thought of meeting Kristine and Sandra's sister, Anna, somewhere exotic, like Aruba or Jamaica, but she was not interested in that. "I want to go to a big city, like New York", she said. So, we decided on New York City. It was about halfway between Washington state and Sweden, so it worked out pretty well. We planned to be in New York for the Rockefeller Center Christmas, since Kicki's birthday is December 3, and we were told by the New York City Visitor's Center that the Christmas tree lighting was on December 2. We made our reservations with Northwest Airlines without a hitch and we set off to find a place to stay.
Our first thought was to find an RCI resort in the city. It turns out that the only one is the Manh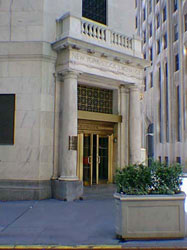 attan Club, and that was booked solid. We looked at RCI resorts in Connecticut, Pennsylvania, and New Jersey. These all required at least a 1 1/2 hour drive into the city. We just couldn't see driving that far, and none were near a train station, but rather in remote vacation and ski areas, further extending travel difficulties. Disappointed, we decided to just pay for a regular hotel. We were astonished at the price of lodging in New York City. We knew we couldn't (and wouldn't) pay for a place like the Four Seasons or Ritz Carlton, but Comfort Inn, a low-middle class hotel, was around $300 per night! Best Western was about the same. There were a few hotels in the city with rooms under $200 per night, but these all were old, shared bathroom hotels. We finally found an Econolodge in Carlstadt, New Jersey for $54 per night. Our motel was across the street from a bus stop with non-stop access to the main terminal in New York City. This worked out really well, and although our motel was just a Motel-6 type room, it had clear water, no cockroaches (we heard you can't get a room in New York City without them), a private bathroom, and was only a 20-minute bus ride or so into the city every day. Buses came every five or ten minutes, so transportation was really easy.
Our next hurdle was that a few days before the plane left, we found out that the Visitor's Center had told us wrong, and that the Rockefeller Christmas was on the 1st of December, not the 2nd. We were pretty disappointed about that. We arrived at Newark I
nternational Airport around 3:30 in the afternoon, and around 5:30 Kicki and Anna's plane finally arrived, after being delayed for an hour. We couldn't fit all of our luggage into a regular cab, so we opted to call for a shuttle van. The information desk called State Shuttle and told us it would be like 15 minutes, so we thought that was OK, since the line for taxis was about 75 people long. An hour and 15 minutes and several phone calls later, our cabbie showed up. He was a 300 lb. black guy with a stocking hat who didn't even look at us as he walked in, signed the paperwork and walked back out. The information desk pointed to him, and we grabbed our bags and hurried after him. He never looked back, and opened the back of his minivan. After loading in, he turned on the cab and hip-hop music blasted us out of the cab. He didn't turn it down, but rather opened the windows so everyone else could hear. Our ears were hurting, the air rushing into the cab from the open windows an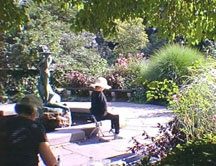 d broken sliding door was under 20°F (-7°C), and we were freezing. He peeled wildly, in and out, practically tipping us over, honking the whole way. We stopped and picked up an old guy, who was in shock. Then we finally made it to our motel in Carlstadt, near the Meadowlands and Giants Stadium. No Tip There!
Our initial impression of New York City was not good, as I'm sure you can tell. Our motel, of course, was run by guys from the Middle East, who barely spoke English. As it was freezing and late, and the neighborhood didn't have any sidewalks along the New Jersey Turnpike, just industrial area, we opted to stay in that night and order pizza and unpack. The pizza, of course, was great.
The next day, we headed into New York. The buses were o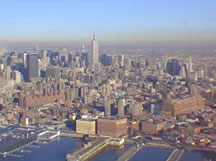 n time, and we made it into town early. During our stay, we took two days to go on Gray Line's hop-on, hop-off double decker sightseeing tours, which was better than we had anticipated. We could see a lot more of the city this way, and we didn't have to pay for transportation, except for a few times late at night when we took a cab. We spent a lot of time walking the city, looking at all the famous buildings and stores. We attempted to go shopping, but Kicki and Anna couldn't find a single thing at Macy's, the world's largest store, or at Bloomingdale's. If you can't find anything at the world's largest store, you just don't know how to shop. That's my personal opinion. We took the Staten Island Ferry at twilight, because we missed the last Statue of Liberty ferry. We wanted to see Ellis Island, but the lines to the Statue were like three hours long, so we hadn't planned to do that. On the sightseeing tour, we saw nearly all of Manhattan, i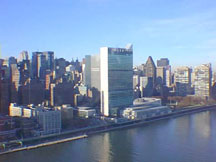 ncluding Soho, TriBeCa, Little Italy, Chinatown, Greenwich Village, Union Square, Harlem, Midtown, Upper West Side, Upper East Side, Chelsea, Central Park, Times Square and the Theater District.
We visited Rockefeller Center, and saw the Radio City Music Hall Christmas Spectacular with the Rockettes, which was fun. On the 3rd, Kicki's birthday, we saw The Phantom of the Opera at the Majestic Theater on Broadway, where we sat near Jerry Springer for the performance. That was interesting. He had a young girl with him, of course, and had a really big limo. We had dinner at Sardi's which was excellent, but with pretty poor service (typical New York). After the show, we took a midnight carriage ride in Central Park. That turned out to be good timing, because the next day, there were hundreds of people in line for the carriages! Anna nixed any museums, so we didn't do that. We had drinks at the Plaza hotel, where you had to pay $20 just to sit down, and drinks were $10 apiece. We tried to get into the Rainbow Room in Rockefeller Center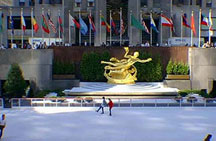 , but it was too full. I guess it was the weekend after Garth Brooks played there on television, so it was popular. Then we went dancing at the China Club. Downstairs was top-40, with a small dance floor, and upstairs was techno with a big dance floor and lots of people. The cover charge was $25! We danced and drank until early morning, and caught a cab back to our motel. However, our cabbie didn't know how to get to our motel, and either did we! We went on a goose chase, and ended up paying $80 for our cab ride! Sandra, drunk in the backseat, was screaming the whole time about Giants Stadium, and giving bad directions. We tried to ignore her, but the cabbie kept listening to her and getting lost!
All in all, we had a really good time in the Big Apple. The city was far cleaner than we expected, and w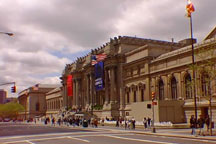 as really nice. There were no homeless people sleeping in the streets, no muggings, prostitutes, or drug dealers on every corner. There were practically no porno shops or strip joints, and even Harlem was nice. The projects were clean, with no graffiti, and a lot of renovation was taking place. We felt safe everywhere we went, which we didn't expect to. We never took the subway, however, so we can't comment on that. The people were generally rude, as you would expect, and taxis were everywhere, which was convenient. The weather was warm, at near 50°F (10°C), and no rain. Best of all, we got to spend Mamma Kicki's 50th birthday with her and Anna. That was a lot of fun.
In our New York City Directory, we have included links to guide you in your quest for information about New York City. Check out or Photo Gallery for pictures of us in New York!
---