Idaho
---
We took the seven hour drive from Vancouver, Washington to Coeur D'Alene, Idaho in March, 2002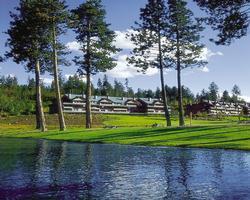 to do some snowboarding at Silver Mountain in Kellogg and Schweitzer Mountain, near Sandpoint. We headed up there with our friends, Brian, Jeannie, Salima, and Jeff, and got a room at the Arrow Point resort on Lake Coeur D'Alene.
We scored a penthouse suite, where we each made a wonderful dinner, had plentiful food and drink, and had a great time. By day, Brian and Jeannie took to the slopes in Snowshoes, while Salima and Jeff opted for skiing, downhill at Silver Mountain, and Cross-Country at Schweitzer.
As we had neither snowshoes, nor skis, we snowboarded at both places.
This portion of our site will be very limited, as we didn't really take the time to explore the area at all, even Coeur D'Alene, instead sticking to the plan of hitting the snow. The snow was wonderful spring corn, which the locals were complaining about, but was the best snow we'd ever been on.
Silver Mountain boasts the world's longest gondola ride to the top of the scenic resort. If you like tree skiing and like good value for your money and less crowds, then this may be the place for you. We really enjoyed it.
Schweitzer is considerably more expensive, but also a lot bigger. The terrain park was the most impressive we'd seen, and the village at the bottom was very
cozy, much like a smaller version of the village at Whistler Mountain in British Columbia. The views from both Silver Mountain and Schweitzer were spectacular, as you can see by the photos above. We all had a fantastic time, and can't wait to do it again! Maybe this year!!
You can click on our Photo Gallery to view photos of our trip, or check out our snowboarding message board at left. We've also given you an option to save big on your airfare, hotel, and rental cars. You can even save on Vacation Rentals! For more information about the area, try our Destination Guide. To read more about snowboarding at Schweitzer and Silver Mountain, try our Snowboarding page!
---