Message Board

Mountaineering Links
Washington State Mountaineering
Mt. St. Helens
(Monitor Ridge)
---
Backpacking & Hiking
---
There's nothing like the peace and quiet of nature. When you're breathing the freshest of air, drinking the crystal clear mountain streams, gazing at a sky full of stars on a clear night, it seems like the howling mad rush of the city is worlds away. All your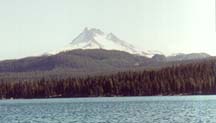 stress, your worries and your anxieties seem to float away in the morning mist.
We've always loved to be outdoors, but only lately have we had the ambition to make it a reality. We always excused it by saying "We don't have any gear", or "We have too much to do", but now we say "screw it! We're going!" We bought Kelty backpacks, sleeping bags, and tent, along with some other camping and backpacking necessities, and off we went.
On these pages, you'll find photos and information about hiking, camping, and backpacking in the Pacific Northwest. You'll find lots of personal photos, but some scenics as well.
Please visit Top 50 Sports Sites to cast your vote for Johann & Sandra's Backpacking and Hiking!
---