---
Mt. St. Helens
Worm Flows Route
---
May 12-13, 2001 (Mother's Day)
Our group met up with the Ptarmigans outdoor club at the Salmon Creek park-n-ride on Saturday, May 12, 2001, at around noon to carpool to Mt. St. Helens for our Mother's Day summit. After everyone grou
ped up, we headed off to Jack's restaurant in Ariel, WA to obtain climbing permits and to eat a little lunch. The 300+ lb. man behind the counter wore a t-shirt claiming "I climbed Mt. St. Helens", giving us a bit of confidence in our ability to reach the top. After downing a bowl of Taco Soup (not a good choice for mountaineering food), we headed off to the Marble Mountain snow park to assemble our packs, don our dresses (a somewhat bizarre local tradition among the outdoor groups in our area, in honor of Mother's Day), and begin our trek to our bivy spot near the timber line. The 8,365 foot high mountain loomed before us, looking quite pristine from the south side, presenting little suggestion of the devastation that lurked on the far side of the mountain, where the top 1300 feet of the volcano blew off 21 short years ago, almost to the day.
We began strapping our snow shoes, ice axes, crampons, plastic mountaineering boots, tents, sleeping bags, and therm-a-rest pads to our 2800 sq. in. packs, which required numerous bungee cords. When all was said and done, my pack topped 70 pounds, and Sandra's 45. Perhaps the whole roasted chicken and six Tupperware containers of pasta salads and meatballs were not the best idea for backpacking food. As I struggled to pick my pack up off the ground, requiring assistance from the rest of our party, my sleeping bag, tent and therm-a-rest all found it amusing to go flying off the pack. The rest of the party waited patiently while I re-packed my gear, and with a little ingenuity from Pat, we were soon off and running (ok, slowly churning out the steps...).
We left our car at the sno-park at 2700 feet, and struck out up the Swift Creek cross-country ski trail for a two-and-a-half mile pack to our campsite, gaining roughly a thousand feet of elevation. After the first few minutes, Pat had to run back down the trail and get her climbing permit fr
om the car, which afforded us the chance to rest, and to try to adjust Sandra's ill-fitting pack. Sandra was suffering under the weight of her pack, as her knee was badly injured, and had already kept her out of soccer for several months, but she persevered, complaining all the way. We hit snow at about 3200 feet, but there was little post holing, and we didn't need our snowshoes on the approach hike. At last, we met up with the rest of the party at the bivy location, and we set up camp. We struggled a bit with setting up our tent, as we'd only set it up twice before, but eventually everything fell into place. After a potluck of pasta, chicken, meatballs and cookies, we retired to our spaces, and Gabe marched off to finish his homework over Swift Creek Falls while the sun set over the tree-covered valley.
The night didn't offer much sleep, as Pat froze half to death with no therm-a-rest pad, and only a sleeping bag and the thin wall of the tent between her and the snow. Sandra snored loudly, and I shed layers throughout the night as I baked inside my sleeping bag. The temperature dropped to only around 25 degrees that night, making the night much more comfortable than it could have been. At 3:30 AM, we woke and struggled to get dressed and packed up for the summit that morning. I ran around with a flashlight in my mouth, cursing Sandra under my breath for not wanting to get head lamps, and we melted snow for water, using our backpacker's stove and a borrowed pot and filter from our climb leaders. The water tasted of iodine, and was a strange orange color, but as I'd exhausted my gallon of water that I had packed already, options were limited.
A couple of other climbers joined us for the ascent that morning, one of them after just climbing Mt. Hood the day before, and we set off, all looking pretty in our dresses for the day. Pat looked dashing in her hot pink dress emerging from beneath her REI gear, and Gabe was quite cute in his blue sk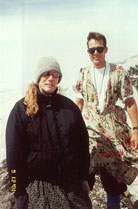 irt with white flowers, although he chickened out and opted not to wear the bra he had packed along. Sandra wore a blue summer dress with white flowers, and I, not to be outdone, donned her wedding dress! Together with the rest of our drag-laden party, we must have been quite a sight. We left our snowshoes at around 4300 feet, and proceeded up a rocky ridge, full of loose rock, which provided some peril with no rope or helmets. We managed to ascend the skree-covered ridge without injury or skull fracture, and continued through the snow. We crossed over Swift Creek and followed the canyon on the East side, as opposed to the west side which was the traditional route, so we were breaking new trails all the way.
We stopped to rest and apply sun block at around 5700 feet, where the clouds began to burn off, revealing a magnificent view of Mt. Jefferson, Mt. Hood, and Mt. Adams. Sandra pulled out her walkman and jammed to the tunes the rest of the trip, which helped get her mind off her knee. Pat pushed ahead, practicing kicking steps and leading the group for a while, and Gabe took a moment to drop his trail mix, which then rocketed down the slope and over a cliff. I stored waypoints in my GPS unit and filmed the action (or lack thereof) on our video camera. At 6500 feet, we stopped again to rest and to gaze at the now incredible view of the surrounding valley and snow-capped peaks. We opted against crampons and ice axes, as the snow was fairly soft, and stuck with our ski poles to press on. Above 7000 feet, the going got icy for a while, and we were all wishing that we had decided to use our ice axes, but there was nowhere to take off our packs to get to them now. Pat slipped down, as usual, but caught herself ok, and we all made the traverse across the ice field safely. Sandra kept saying she couldn't make it after the steep final pitch began, but she continued to press on. Gabe and I stayed back to take pictures and compare dresses.
Finally, at around 11:00 AM, after 5665 feet of elevation gain in about five miles, we reached the rim of the crater. The bitter cold wind now howled over the peak, and we hurried to put on layers. I wasn't cold at all after donning my Mountain Jacket, and changing out of my dress (the deal was for climbing the mountain in a dress, not descending it too!), but I seemed to be the only one. Some members of our party were shivering uncontrollably as we lined up for a group photo in front of Mt. Rainier. Everyone booked off the top as soon as possible, leaving no time for even taking a photo or two, let alone enjoying the fabulous view of the crater, Spirit Lake, Mt. Rainier, Mt. Hood, Mt. Jefferson, and especially Mt. Adams, which was looming to the east.
We threw on our glissading pants over our Gore-Tex, and practically ran down the mountain to our resting spot, sheltered from the wind. Gabe and I were the last ones off the top as I bugged him to take a couple of photos of me on the top before we left. Once we all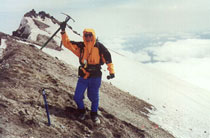 got together at the rest spot, Sandra changed out of her dress as well, and into her glissading pants. We then set off to make some glissading trails down the slopes of Mt. St. Helens. We sat down and took off like a rocket on some long glissades, having to stop before blazing down the slopes into a large crevasse below. At this point, everyone gathered around for a group photo in front of Mt. Adams, showing off their dresses. Sandra and I had changed out of ours, so we opted out of the photo, choosing instead to photograph the scene on our own. After the photo op, we took off on some more raging glissades, and we were all having a blast. Even Sandra, who was so cynical moments before, was having the time of her life. What had taken us hours to ascend, we descended in twenty minutes. By noon, we were back down to our snowshoes, which we then donned. None of the four of us had ever snow shoed before, and we didn't really know how, but after Pat falling down again (a common occurrence on our outings), and a quick lesson from a member of our party, we figured it out and made good time down the mountain. We got back to our camp at around one-thirty in the afternoon, and set about strapping all our gear once again to our behemoth packs, and tearing down our tents. As usual, the whole party was waiting on us to finish packing, but we finally got geared up and off we went. Our final descent was slow, as Sandra was being crushed by her pack, which once again was as big as her, but we finally made it down. We set down our packs and felt like we were in zero gravity as we seemed to be floating with each step.
We packed our stuff into Pat's Jeep Grand Cherokee and headed off to Jack's to sign out of the climber's register. We hung out and shot the breeze a bit with our leaders, and discussed possible future climbs, including South Sister, Middle Sister, Mt. Adams and Mt. Shasta. After our first snow climb as a group, Gabe, Pat, and I were enthusiastic to set out for Middle Sister in June, but Sandra had a different viewpoint. As always, any mountain that you are able to summit is an exhilarating feeling, and the stunning beauty of life above the clouds is completely captivating. Above all, we learned from this climb that we need to pack lighter!
To view a slide show of our ascent up the Worm Flows route of Mt. St. Helens, click on the link below.
To view our page on our summertime Monitor Ridge Ascent, click here, or to view our slide show of that ascent click here. You can also view our page on the Mt. Hood south side ascent that I made eight years ago, or our South Spur climb of Mt. Adams this spring.
---