---
Cozumel Dining
---
We ate a lot of different places during our stay, but we only reaffirmed our belief that the best places to eat are where the locals eat. Most of the restaurants we tried were in tourist canyon, near the plaza, but we did venture into the real town a bit. I have no idea what the places we tried were called, but I do know they were a fraction of the price, and very good. It was kind of fun, too, because we were the only tourists there, and the waitresses spoke little or no English, so we had to try to communicate with them what we wanted, and try to interpret the menu. If you want low prices, and consistently good Mexican food and seafood, make the short trek out to town. It's definitely worth it.
Below we've listed the places which we remember eating and our experiences with them. We've also assigned them a rating for your information.
Visit Top 100 Travel Sites to cast your vote for Johann & Sandra's Cozumel!
---
Restaurante Cocos Cozumel * * * 1/2
Cocos was
a cozy little breakfast place in San Miguel's Town Square. We stopped in one day and had some French toast and bagels, and found the prices to be quite inexpensive for the tourist area, and the food was tasty. Cocos is located below the Hotel El Marques, and across from the Hotel Colonial. We mostly noticed it because it was next door to the Banamex machine we made frequent visits to! We intended to go back again, but we never made it.
---
Ernesto's Fajitas Factory * * * *
We first visited the Ernesto's south of San Miguel, near Dive With Martin's dive shop, to have a bite to eat before our afternoon dive. I had an uninspiring chicken sandwich for a moderate sum, and we thought nothing more of it. Then, later, we visited the Ernesto's in Downtown San Miguel, and opted to try the fajitas. Mmmmmm!!! Excellent. The waiter was exceptionally helpful and polite and the drinks were good. We were quite impressed, and almost took them up on their open-bar, all-you-can-eat Millennium party for $30USD. Try the tortilla soup!
---
Prima *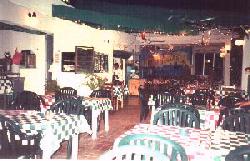 Prima is an Italian restaurant in downtown San Miguel, in the heart of tourist central. The prices were high, and the service was horrible. The food was quite good, but we opted for the cheapest thing we could find (which wasn't cheap), so we weren't too impressed with the food, either. The setting is nice, and it seems to be popular, since it is swarming with tourists. We did not have a good experience here.
---
Tony Rome's Steak House & Bar-B-Q * * * 1/2

Tony Rome's was a nice place. We had good service, and Tony played a CD of his Christmas Album in the background. We had Mexican Pepper Steak and some other cut of steak, both of which were very tasty. The prices were average. Tony didn't sing for us, though. I think some Japanese business guys were meeting with him, so he was busy, but roving Mexican singers caroused the place. It's located right downtown on Rosado Salas.
---
La Choza * * * * 1/2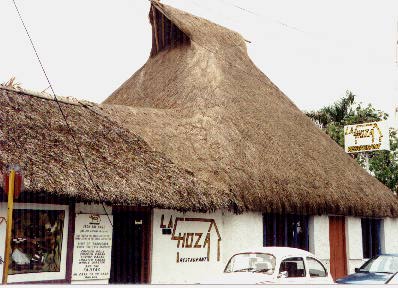 La Choza was a great little spot. It's located near the northeast corner of the plaza, just at the tip of tourist central. Sandra had some awesome mesquite-grilled chicken, and I was more than satisfied with my grouper fillet. The drinks were huge and low-priced, the service was excellent, and the food prices were better than most. Afterward, we both agreed that this was one of the best places we had been to on the island. Sandra wanted to go back just for the drinks!
---
La Mision * * * 1/2
La Mision was pretty nice. As you walked in, the first thing you saw w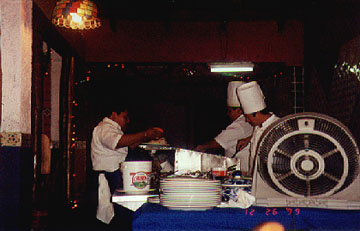 as the huge open grill, where the chefs were making the food in front of you. I had a grouper fillet, which was decent, and Sandra had an above-average mesquite chicken dish. We ordered the tortilla soup, which was good, but no match for that of Ernesto's. The prices were average, but the service was good. Located near La Choza on Rosado Salas, La Mision wasn't a bad choice.
---
Jeanie's Waffle House * * * *
We returned to this place twice for breakfast before diving. The waffles were good, and the omelet's were even better. The prices were reasonable, and it was open before our morning dives! If we go back to Cozumel, we'll probably go back to Jeanie's!
---
Pepe's Grill * * * * *
This steak & seafood house is where we picked to go for dinner on New Year's Eve, and we were thoroughly impressed. When we walked up and got their last available table, we saw all the waiters dressed in tuxedo's and the whole place decorated for the Millennium. Entrees, coffee drinks, and desserts were prepared flambé tableside (really cool). We shared the chateaubriand with béarnaise sauce, and had a Mayan coffee after dinner. The food was excellent, the atmosphere was romantic, yet festive, and the service was impeccable. The prices were above average, but at this place, they should have been. Located on the strip, just South of the plaza, this was a real hit with us.
---
Restaurante Las Palmeras * * * 1/2
| | |
| --- | --- |
| | This was the first restaurant we went to in San Miguel. It's located right on the strip, with a cozy palapa-roof atmosphere. The prices were very reasonable, considering its locale, and the food was excellent. I had stuffed fish, which was the best fish I had in Cozumel, and Sandra the Quesadillas (of course). The only complaint we had was with the service, which was awful. Las Palmeras ranked right up there with Prima in the terrible service category. |
---
When we spent a couple of hours on San Francisco beach, I had some fajitas, and Sandra a hamburger. The fajitas were no match for Ernesto's, and the prices were high. Unlike everyone else, they served soft drinks in a can, instead of a bottle. Kind of lame.
---