---
Team Handball
---


Adidas Handball Shoes
The World's Most Popular Team Handball Shoes
Now available in the U.S.!
See our Team Handball Shoes Selection!
Sandra has played Team Handball since she was a little girl on local and national levels. Team Handball is a sport which is kind of like water polo on a basketball court. It is fast, physical and fun, but few Americans have ever heard of it. We Americans think it has something to do with hitting a ball against a wall with our hand! Not so! Check out this page to find out more.
On this page, you will not only find information about Team Handball, but also photos and lots of handball links!
Team handball is the second most popular sport in Europe (behind soccer), but is little known in North America. Its very name is confusing even to an American who knows quite a bit about sports.
The modern game actually grew out of three sports that were developed, independently, in three different European countries: The Czech hazena, the Danish handbold, and the German Torball.
All three were based on soccer, but essentially replaced the foot with the hand, so that the ball could be advanced by batting or throwing, rather than by kicking.
Hazena was being played by Slovak peoples as early as 1892; its rules were first codified in 1906, by a college professor. Handbold (the Danish word for handball) was developed in 1898 by a teacher, Holger Nielsen, as an alternative to soccer. In 1906, Nielsen revised the rules considerably and began organizing competitions outside the school at which he taught. Similarly, Torball was created in 1915 by a German gymnastics teacher, Max Heiden.
Professor Carl Schelenz of the Berlin Physical Education School in 1919 combined elements of handbold and Torball and adapted the soccer playing field for a new sport which he called handball (actually translating the Danish into German). Schelenz also borrowed from basketball, which was just becoming popular in Germany, to allow dribbling as a means of advancing the ball.
By 1925, the game had become fairly popular in other European countries. The International Amateur Handball Federation (IAHF) was established in 1928; handball was a demonstration sport at the Olympics that year and again in 1932.
That form of handball, designed to be played outdoors by teams of eleven players, was a full-fledged Olympic sport at the 1936 Berlin Games. The United States finished sixth and last in the competition.
Meanwhile, a different, indoor version of handball was being developed in the Scandinavian countries. Based largely on Danish handbold, this version had only seven on a side and was played in a considerably smaller area. The IAHF held the first seven-a-side world championships in 1938.
After World War II, the seven-player game gradually took over from the eleven-player version in Europe and also spread to other continents. World championship play, which had been ended by the war, began again in 1954 and handball was restored to the Olympic program in 1972. Competition for women's teams began in 1976.
When handball was introduced to the United States, about 1930, the name was already being used for the court game that was very popular in YMCAs across the country,.so the new import was called "field handball," eventually shortened to "fieldball," and it was at first played primarily by girls and women. The seven-player version, however, became known as team handball in the United States..
Although it has never achieved great popularity, it was adopted by the U. S. Army as a camp sport in many areas of the country. Many Boys' and Girls' Clubs also took it up, followed by Explorer Scouts and even some high schools and colleges. The U. S. Team Handball Federation was founded in 1959 to standardize rules and sanction competition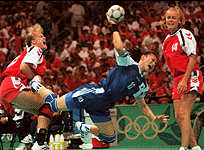 Team handball has been described as a combination of soccer, basketball, and ice hockey (I liken it to water polo on land). The object is to score by throwing or hitting an inflated ball into a goal. A player can move the ball by dribbling it, as in basketball; by hitting it with any part of the body above the knee; or by throwing it. Only the goalkeeper is allowed to kick the ball. (This, of course, is the reverse of soccer, where all other players have to kick the ball and only the goalkeeper is allowed to handle and throw it.)
It's against the rules to carry the ball for more than three steps or to hold it for more than three seconds.
Shots on goal must be taken from outside the goal circle, an area in which only the goaltender is allowed. Minor violations of the rules allow a team a free throw, which is an unhindered pass to a teammate, usually from a spot near where the foul was committed. Penalty throws at the goal, awarded for more serious infractions, are taken from a mark just outside the goal circle.
The eleven-player game is played outdoors, on a field 90-100 meters (295-360 feet) long and 55-65 meters (180-213 feet) wide, with a goal 2.44 meters (8 feet) high and 7.32 meters (24 feet) wide. The goal circle is an arc 13 meters (43 feet) from the center of the goal.
In the seven-player game, which can take place either indoors or outdoors, the playing area is 38-45 meters (125-148 feet) long and 18-22 meters (59-72 feet) wide. The goal is 2 meters high by 3 meters wide (about 6 feet by 9 feet) and the goal circle has a diameter of 6 meters (about 20 feet).
For men's teams, either 11-player or 7-player, a game is made up of two 30-minute halves. Youths play 25-minute halves.
There is now a team in Seattle, as well as Vancouver BC, with a team forming as we speak in Portland, Oregon! For more information on the Portland or Seattle teams, see our Seattle & Portland Team Handball page! If you are interested in playing handball, or know of an organization or club that plays, E-Mail Us! Also let us know if you have any more links or information to contribute to this page! We'd surely appreciate it!
Please visit Top 50 Sports Sites to cast your vote for Johann & Sandra's Team Handball!
---