---
Deadhorse Cave
---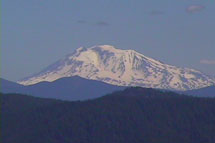 Near Mt. Adams, Washington lies one of the finest cave adventures in the Pacific Northwest. Deadhorse Cave boasts the title of the longest lava tube in continental North America, and contains the infamous Masochist Maze, with such areas as "Primal Scream", "Breakdown Room", "Arrested Development", and "Psychosurgery". The cave is 4400 feet long and almost 200 feet below the ground, with large caverns, brutal crawls, and a river flowing through it. Masochist Maze, never fully mapped, branches off, if you can find the entryway.
Gabe and I trotted up there in August, 2003, and slithered our way throughout the cave. We slid through the tiny upper entrance (known as "The Rat Hole", "Misery Crawl" (a 1.5-foot exercise in claustrophobia), and found the lower entrance without too much difficulty. We also found the entrance to Masochist Maze, but didn't have time to find out if we were "Fit or Fat" (the 10" high opening to the maze).
We were lucky to have maps of the site, which made it much easier to navigate. I wouldn't recommend doing this cave without one. You'll also want to make sure you have kneepads, elbow pads, and heavy gloves, pants, and jacket. There are all kinds of belly crawls, and if you don't have at least gloves and kneepads, you'll be hurting the whole time. Lava is mighty sharp. We have a photo, but we have to dig it up still.
*We don't give out directions or maps to caves.*
---
Deadhorse Links
---
---