---
Deschutes River
Maupin, OR
---
August 4, 2001
We arrived at City Park in Maupin, OR around 9:00am that morning and met up with our party, camping in the shade of the locust trees, on the shores of the Deschutes River. Ken, Sandra's Friend from school, and his brother Scott, sisters Wendy and Carrie, and friend of the family Jill were scouting the route and setting up a shuttle. When they returned we headed upriver to hit the rapids!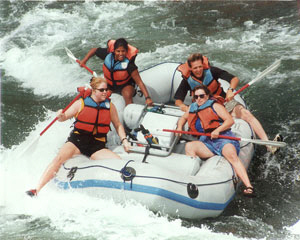 We rented a raft and three kayaks from All-Star Rentals, a company in Maupin. We put in at Harpham Flat about 10:30am, with Ken, Scott, and Wendy in kayaks and Jill, Carrie, Sandra and I in the raft. As the other paddlers were familiar with the river, Sandra and I occupied the back of the raft. Within minutes, we hit Wapinitia, followed by Cape Canaveral, and Boxcar, where photographers gather on surrounding rocks to take your photograph as you hit the rapid. You can buy the photos at several different locations around town for a staggering $15 apiece. Wendy capsized on all three rapids, but everyone else stayed afloat. Wapinita sent me sailing into the front of the boat, but Jill broke my fall!
We continued downstream through several long flatwater stretches, broken up by small rapids. Water fights broke out all over the crowded river, with water cannons, paddle splashes, and buckets of water filling the air. We were armed with four water cannons, but the buckets were a bit overpowering!
After stopping by our campsite for a quick snack, we set out downriver again, running through long flatwater stretches, interspersed with rapids named Surf City, Oak Springs, Elevator (we body-surfed this one...COLD!), Escalator, Roller Coaster, White River, Staircase, Powerline, and Osborne, before taking out just before 75-foot Sherars Falls. The largest rapids on this stretch of river (Boxcar, Wapinita, and Oak Springs) were just Class III, but this stretch of the Deschutes has the highest concentration of rapids on the river.
After taking out at 3:30pm, we loaded up and headed back to camp for a quick lunch before heading back to Harpham Flat and going downstream again! This time, Sandra and I led the way, hitting the Wapinita head-on, sending Jill flying, and I stood up in front of the raft and rode the rapids like a cowboy, while Sandra tried to dunk me. I intercepted her attempt and sent her flying over the side (funny). Then Carrie tried to pull me off, which got her splashed repeatedly with the paddle, and then overturned in her kayak! After I splashed Scott a few times, he decided to try to dunk me, so I jumped on his kayak and flipped him over! After our festivities, we had to hurry back into the boat, as Boxcar was quickly approaching. We hit the rapid dead-on, and got soaked, but didn't overturn. Several rafts bit it during the day on Boxcar and Oak Springs, but not us!
Overall, the day was a lot of fun, although the rapids were mostly Class III, and far apart. The water battles royale helped pass the time during the flat spots, however, and made for a fun atmosphere.
---
Find Your Guide!
Other Deschutes Rafting Links
Deschutes Rafting Videos
---