---
Camping on Molokai
---
Camping on Molokai is excellent, though the sites are limited. The only real campgrounds on the island are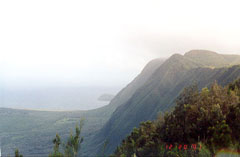 at 233-acre Pala'au State Park, overlooking the Kalaupapa Peninsula and at Waikolu Lookout in the Molokai Forest Reserve. Papohaku Beach Park and One Ali'i Park also have campgrounds available.
Pala'au State Park, home to Molokai's famous "Phallic Rock", has pavilions, grills, picnic tables and fresh water. The park is rarely crowded, and you'll likely have the place to yourself. The views of Kalaupapa and the ocean beyond are breathtaking, and this is the kickoff point to hike down the sea cliffs to get there. It is free to camp here, but you'll need a permit, good for seven days, from the camp headquarters or from the Division of State Parks in Wailuku on Maui. (tel. (808) 567-6618).
Camping is permitted for up to a week at Waikolu Lookout, but you'll have to follow a tough dirt road (Molokai Forest Reserve Road) for 10 miles to get to it. A four-wheel drive vehicle is required to drive on this road. A free permit must be obtained from the Division of Forestry and Wildlife, Olo Ave., about one mile west of Kaunakakai (tel. (808) 553-5019). Located at the 3,600-foot elevation, the Lookout includes a magnificent panorama of Waikolu Canyon - from the verdant cliffs of the upper gorge with waterfalls and plunge pools, to the ocean, sea cliffs and offshore islands lower down. There is a picnic area, restrooms, but no water. Picnickers and campers must bring their own drinking water. No open fires are allowed. (Note: the view from the Lookout is sometimes obscured in the afternoon when tradewind clouds envelop the upper Waikolu Canyon.)

Papohaku Beach Park has restrooms, drinking water, outdoor showers, barbecue grills, and picnic tables, as does One Ali'i Park. Get camping permits by contacting Maui County Parks & Recreation, P.O. Box 526, Kaunakakai, HI 96748 (tel. (808) 553-3204). Camping is limited to 3 days, but if nobody else has applied, the time limit is waived. The cost is $3 a person per night.
Molokai Ranch also offers their own brand of "luxury camping", which is perhaps the most luxurious campin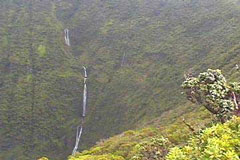 g experience in the country. Each of their two campsites feature "tentalows", unique bungalow-style tents with private bathrooms and laptop computer connections. To attempt to present a rustic appeal, tentalows do not have running water; composting toilets are used throughout both properties.
The only other real camping option on Molokai is the Waialua Pavilion and Campground, a private campground in East Molokai run by the Waialua Congregational Church. The pavilion sits on the beach and has kitchen and bathroom facilities. Rates are $3.00 per person per night, and children under 18 are $1.00 per child per night. For information or reservations, call (808) 558-8150. We have received reports that this campground is now closed, so make sure to check first.
Didn't bring your gear? Molokai Rentals rents camping equipment for $20/day.
---
Visit the links in the table below for more information on camping on Moloka'i.
---
---