---
Hiking & Backpacking on Molokai
---
Molokai doesn'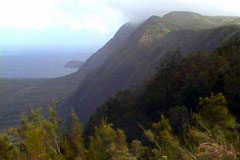 t offer the variety of excellent hikes that some of the other islands offer, but the ones that it has are spectacular. The Kalaupapa Trail itself isn't particularly great, as you pick your way down the mule trail (and through mule droppings), but the vistas presented as you work your way down Molokai's magnificent seacliffs are breathtaking. The trail overlooks Kalaupapa, and is the only way to access the former leper colony except by plane, and provides incredible views of the neighboring islands. You must have a reservation with the guide company to tour Kalaupapa, however.
Magical Halawa Valley is like heaven on earth. Cascading waterfalls, glorious
beaches, and lush tropical rain forest cover the mountainous slopes around the valley, providing incredible scenery for the hike. The trail follows Halawa Stream to cascading Moaula Falls, where you can take a refreshing dip if the famous moo, a mythical lizard said to live in the pool, is in the right mood. This trail is strenous enough to be worthwhile and thrilling enough to be memorable. In years past, anyone could walk up into Halawa Valley, however, due to abuse, disrespect, and degredation of the land, it was closed to the public for two years. It has been opened again, but entrance is restricted to those who go with Pilipo's Halawa Valley Hike. For reservations, call (808) 553-4355.
Molokai Forest Reserve, which can be reached by 10 miles of 4WD roads, has fine hiking as well. At road's end, you'll find the Sandalwood Measuring Pit. Push on, and you'll find yourself overlooking Waikolu and Pelekunu valleys, an exhilirating sight.
The most formidable trail on Molokai is the one that completely crosses the island from south to north and leads into Wailau Valley. It starts at lli;ili'opae Heiau about 15 miles east of Kaunakakai, and gets steeper as you go. Once over Wailau, you have to pick your way down an unmarked, slippery, and treacherous 3,000 foot pali. The reward is the mystique of the valley, seemingly lost in time, almost heavenly.
---
All these trails and more are described in detail on the sites listed in the table below.
---
---