---
Molokai Water Sports
---
This page introduces you to what awaits you on Molokai for surfing, windsurfing, power watersports, wate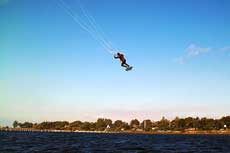 r skiing, kiteboarding, and boogie boarding. For snorkeling, fishing, kayaking, canoeing, and scuba diving, visit our respective pages on those activities.
The best surfing on Molokai is out on the east end past mile marker 20. Pohakuloa Point has excellent breaks, which continue eastward to Halawa Bay. Moomomi Beach has decent breaks, as does Kepuhui Beach. Kawakiu's huge waves during the winter moths are suitable only for experts. Molokai Outdoor Activities offers Surfing lessons at $50 for a 2-hour lesson, and rentals of surfboards, boogie boards, and snorkeling gear.
Advanced windsurfing and kiteboarding are available in the Molokai Channel between Molokai and Oahu. The Hawaii Kiteboarding Association is planning a contest for kiteboarding across the channel. Molokai Outdoors offers Windsurfing lessons with pro windsurfer Clare Seeger Mawae for $95 for a 2-hour lesson and an afternoon with the equipment. Molokai Kite Factory is a fun place to shop for kites as well.
Molokai has only three beaches that offer ridable waves for body boarding and bodysurfing: Papohaku, Kepuhi, and Halawa. Even these beaches are only for experienced bodysurfers, due to the strength of the rip currents and undertows. You can rent Boogie Boards with fins for ($7 a day or $21 a week) and fins ($2.95 a day or $11.95 a week) from Molokai Rentals and Tours, Kaunakakai (tel. 808/553-5663), or Molokai Outdoor Activities, in the lobby of Hotel Molokai, just outside Kaunakakai (tel. 877/553-4477 or 808/553-4477).
There are no facilities that offer power watersports on Molokai, such as Jet Skiing, Water Skiing, or Parasailing. You'll see zodiac-style rafts around, but they are based out of Maui, and run day trips over to Molokai.
Molokai Charters (tel. 808/553-5852) offers a variety of sailing trips on Satan's Doll, a 42-foot sloop: 2-hour sunset sails for $40 per person, a half day of sailing and whale-watching for $50, and a full-day sail to Lanai with swimming and snorkeling for $90 (which includes lunch, cold drinks, snacks, and all equipment). Owners Richard and Doris Reed have been sailing visitors around Molokai's waters since 1975. They also offer whale-watching cruises from mid-December to mid-March, when humpback whales frequent the waters around Molokai. Molokai Outdoors offers booking for this trip.
If you're looking for lessons or gear rentals, see the links below to find where you want to go, and then visit our Discounts & Bargains page to save some bucks on your water sports experience.
---