---
Sportfishing on Molokai
---
The Penguin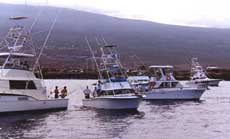 Banks of Molokai are some of the most fertile waters in hawaii. Trolling produces excellent game fish such as marlin, mahimahi, ahi tuna, and ono (the best tasting fish in Hawaii). Bottom fishing, usually with live bait, yields onaga and uku (gray snapper). Molokai's shoreline, especially along the south and west, offers great bait-casting for ulua and ama ama. Ulua is an excellent eating fish, varying in weight from 15 to 110 lbs. Squidding, limu gathering, and torch-fishing are all quite popular and productive along the south shore, especially around the old fishpond sites. Theses remnants of Hawaii's one-time vibrant aquaculture still produce mullet, Samoan Crab, tilapia, and barracuda.
When customers are scarce, Capt. Joe Reich, who has been fishing the waters around Molokai for decades, goes commercial fishing, so he always knows where the fish are biting. He runs Alyce C. Sportfishing out of Kaunakakai Harbor (tel. 808/558-8377). A full day of fishing for up to six people is $400, three-quarters of a day is $350, and a half day is $300. You can persuade him to do a whale-watching cruise during the winter months.
For fly-fishing or light-tackle reef-fish trolling, contact Walter Naki at Molokai Action Adventures (tel. 808/558-8184). Walter's been fishing his entire life and loves to share his secret spots with visiting fishermen--he knows the place for bonefishing on the flats. A full-day trip, for up to four people, in his 21-foot Boston whaler, is $300.
For deep-sea fishing, Fun Hogs Hawaii (tel. 808/567-6789) has fishing excursions on a 27-foot, fully equipped sportfishing vessel. Prices are $350 for 6 passengers for 4 hours; $400 for a 6-hour excursion, and $450 for 6 people for the 8-hour trip.
If you just want to try your luck casting along the shoreline, Molokai Outdoor Activities, in the lobby of Hotel Molokai, just outside Kaunakakai (tel. 877/553-4477 or 808/553-4477; ), rents fishing poles for $6.95 a day and can tell you where they're biting.
For more information on fishing on Molokai, check out the links in the table below. Before making any reservation, we recommend checking out our Discounts & Bargains page to save a bit of cash.
---
---