MOLOKAI, HAWAII
SAVE UP TO 70% ON ALL YOUR TRAVEL RESERVATIONS!
Cheap Tickets
E-Bay Travel
Expedia
Hotwire
Orbitz
Priceline
Travelocity
Hawaii Entertainment Book
Up to
50% Savings on Activities, Attractions, Dining, and Hotels!!
AOA Gold Card
Save up to 25% on Maui and Molokai Activities, Attractions, and More!!
---
Horseback Riding on Molokai
---
Horseback riders on Molokai are in for slim pickings. You will find yourself basically limited to Molokai Ranch,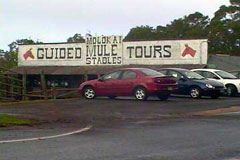 who offer a variety of rides over their ranch lands, and the Molokai Horse and Wagon Ride, which heads up through the Mapulehu mango grove and up to the lli'ili'opae Heiau, largest on the island. Then, of course, there are the mules...
The Molokai Mule Ride is the chief attraction on Molokai. The well-trained mules will transport you roundtrip down the 1,700-foot pali face, expertly negotiating the hairpin switchbacks on the trail. The ride each way is about 90 minutes. Included with the tour is a 2-hour tour of the Kalaupapa leper colony from Father Damien Tours.
---