---
Maui Attractions & Family Entertainment
---
There are plenty of things to see on Maui other than the fantastic beaches and beautiful landscape. Thi
s page focuses on attractions and entertainment that the whole family can enjoy. For information on night life and other entertainment, check out our Entertainment page. If you're looking for information about scenic attractions, such as Haleakala or Hana Road, Beaches, tours, or activities, there is information on those items throughout the site. Try clicking on another link at left.
If you are interested in marine life, particularly Maui's famous humpback whales, there are many ways to experience them. If whale watching from a boat or a plane isn't your speed, or you just want to learn more, the Hale Kohola Museum, Whale Center of the Pacific, Maui Ocean Center, and Whalers Village Museum will certainly meet your craving.
If you want to learn about Hawaiian culture and the land, we found the Hawaii Experience Domed Theater show to be educational and entertaining. The IMAX-type movie takes from the beginning of time through the migration of Polynesians to Hawaii through the many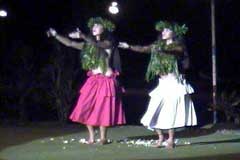 attractions that Maui has to offer. The Maui Arts & Cultural Center is an excellent way to learn about Hawaiian culture as well.
You may opt for a modern take on Hawaii from Maui Myth & Magic Theatre. You'll get quite a show, like hula intermixed with Cirque Du Soleil. The Sugar Cane Train takes your family for a trip through a real sugar cane plantation, and for your artistic needs the Hui No'Eau Visual Arts Center and the Hana Coast Gallery provide entrancing exhibits of Hawaiian arts & crafts.
The following links are to the official websites of the attractions, where you can find information about the places, prices, and times. After you've made a decision, visit our Discounts & Bargains page to find these attractions at rock-bottom prices. The discount brokers can usually get you a good deal on almost anything you'd like to do. You can also view the selection of activities and shows available from Maui Tours here.
Maui Lei Greetings
Experience a traditional welcome to the Islands with an authentic lei greeting! Maui Lei Greetings offers a Hawaiian-style reception that won't soon be forgotten.

Maui Ocean Center
Explore the intricate wonders of Hawaii's ocean! Maui Ocean Center, "The Hawaiian Aquarium," is a three-acre, state-of-the-art aquarium and marine park that allows visitors an extraordinary look at the vast undersea world surrounding the Hawaiian Islands.

Kupanaha Maui Magic Show
Witness a Maui magic show at the Kaanapali Beach Hotel featuring spellbinding illusions and Hawaiian myth expressed through traditional hula and chant.

Ulalena
Ulalena at the Maui Theatre has been awarded "Best Show & Best Attraction" by the Hawaii Visitors & Convention Bureau. It's Maui entertainment at its finest and a must-see!

Warren & Annabelle's Magic
Warren Gibson, renowned magician & highly acclaimed showman, treats you to his style of close-up magic, sense of humor and southern hospitality. "He's the best there is!" - Arnold Schwarzenegger

Maui Value Pass
Enjoy an Atlantis Submarine Adventure, admission to the Maui Ocean Center and the Maui Tropical Plantation, and then journey into the past on the Sugar Cane Train – all for one incredible price!

Paniolo Express Maui Dinner Train
Come and join the fun with Maui's newest evening adventure – enjoy a nostalgic, tranquil sunset train ride to Kaanapali where the Paniolos (Hawaiian cowboys) will greet you for a delicious all-you-can-eat Hawaiian-style BBQ. Celebrate old Hawaii with live Hawaiian music and dancing. Learn to do the hula and receive free souvenirs – great family fun!

Maui Sugar Cane Train
Travel between historic Lahaina town and the resorts of Kaanapali aboard the Maui Sugar Cane Train! Enjoy panoramic views of the West Maui Mountains as your singing conductor entertains you Hawaiian-style and points out sites of interest along the way.
---
Attractions & Family Entertainment
---
---