---
Getting Married In Maui
---
What a wonderful idea, to experience the happiest day of your life in a tropical paradise! Over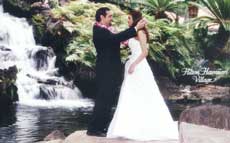 20,000 couples are married in Hawaii each year, and most hotels on Maui have their own wedding coordinators. The restrictions are small, and the costs are reasonable for a wedding experience of a lifetime. You can be married on a secluded beach, under a waterfall, in a tropical garden, or even underwater! No matter what your choice, there is no more romantic place to be Maui'd in the world.
To obtain a marriage license on Maui, the bride NO LONGER needs to bring a premarital rubella clearance certificate from a physician. Obtain an application from one of the Marriage License Agents on the island or the Maui office of the State Health Department.

Both bride and groom must apply in person. The fee is $60; there is no waiting period for getting the license or having the ceremony. Persons 19 years or younger should call the Health Department, (808) 241-3495, for additional requirements.

The ceremony must be performed by someone licensed by the state; many of the wedding services coordinators are licensed or can refer you to a licensed person. Phone (808) 241-3495, Hawaii State Department of Health, for further information.
---
Follow the links in the table below to start your wedding planning process. Don't forget to check out our Discounts & Bargains page for money saving opportunities!
---
---