---
Mountain Biking and Cycling on Maui
---
Bicycle enthusiasts should be thrilled with Maui, but the few flaws might flatten your spirits as well as your tires. The countryside is great, the weather is perfe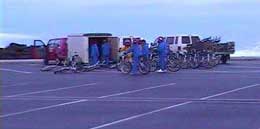 ct, but the roads are heavily trafficked and the most interesting ones are narrow and have bad shoulders. Peddling to Hana will give you an up-close personal experience, but for bicycle safety this road is one of the worst. Haleakala is stupendous, but with a rise of more than 10,000 feet in less than 40 miles, it is considered one of the most grueling rides in the world. Cycling on Maui as your primary means of transportation is not for the neophyte; because of safety considerations and the tough rides, only experienced riders should consider it.
Mountain biking is another story altogether! Rental bikes cannot be ridden on the hiking trails of Haleakala, but you can ride up to the park if you're a masochist. There are quite a variety of other excellent trails available too. The most popular activity is to ride downhill from the top of Haleakala, but the rides from PoliPoli Park, Skyline Trail, the Kula Forest Reserve, and Upper Waiakoa Trail are excellent, and there are many others as well. Check out the Maui County Bicycle Map at the local bike shops for trails and information.
A rental mountain bike will set you back about $30/day or $17/day for a street bike. The links in the table below will help you find a bike, find a tour, and give you all kinds of information about bicycling on Maui. If you find a tour or rental company you like, check out our Discounts and Bargains page to save a little (or a lot!) of money! The links at the right side of the page will help you save money on your tour as well. Our recommended tour provider is Maui Tours.
---
Maui Downhill Mountain Biking Tours
Bike Haleakala Maui with the experts at Maui Downhill. From the summit to the sea, you'll be amazed at the diverse beauty – the barren lunar landscape of Haleakala's summit, eucalyptus forests, protea and flower farms, and more!

Mountain Riders Mountain Biking Tours
Experience the thrill of a Haleakala mountain bike tour with Mountain Riders – simply the best mountain bike tour on Maui! Enjoy breathtaking scenery as you mountain bike down Haleakala on a smooth downhill glide.
---