MAUI HORSEBACK RIDING

Maui Travel Guide
Maui Accommodations
Maui Land Activities
Scuba Diving / Snorkeling
Maui Water Sports
HOT LINKS

---
Horseback Riding on Maui
---
Those who love si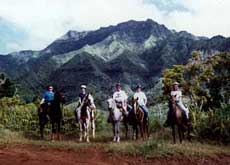 ghtseeing from the back of a horse are in for a big treat in Maui. Stables dot the island, so you have a choice of terrain for your trail ride through Haleakala Crater, across rangeland, or a backwoods ride into the rainforest. There is no riding on the beach. Choose the stable by area or type of ride offered. Unfortunately, none of this comes cheap, but you won't be disappointed by either the quality of the trail or scenery. It's advisable to wear jeans (jogging suit bottoms will do) and a pair of closed-toe shoes. Sunscreen and a hat are also recommended on most rides. All stables have age and weight restrictions, some with a height restriction, so be sure to check with them directly for all details.
To visit the websites of the stables offering trail rides on Maui, click on the links in the table below. There you can read about the various jungle rides, crater treks, and sunset jaunts through Hana that are offered from the various companies. After you've made a selection, visit our Discounts & Bargains page to save some money on your trip! If you know of a companies website that is not listed here, just let us know and we'll add it!
---
Haleakala on Horseback
Journey on horseback from the rim of Haleakala Crater at 9,423-feet to the floor of the world's largest dormant volcano!

Maui Horse Whisperer Experience
Enjoy an inspirational adventure of playing, dancing, and interacting with Maui horses. "This is beyond a great fun-filled activity, these programs are designed to enrich your life." – Maui Concierge Magazine

Mendes Ranch Horseback Ride
Enjoy a breathtaking trail ride across Mendes Ranch, an actual working ranch with views of the Pacific Ocean, West Maui Mountains, Haleakala, and some of Maui's largest waterfalls - an adventure you'll never forget!

Summit Safari
Ascend Haleakala for an unforgettable "Upcountry" Limo-Van tour – discover the beauty of this timeless crimson crater, explore the quaint sugar town of Paia, and horseback ride through beautiful Thompson Ranch!

Horseback Ride & Helicopter Combo
Enjoy the morning exploring Maui on horseback then take in its beauty from above exploring the lush West Maui Mountains and cascading waterfalls on a helicopter tour!
---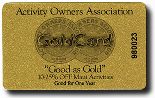 Save up to 25% off Maui Horseback Riding Tours, Activities, Restaurants, and Attractions with the AOA Gold Card
Click Here to see Discounts!

Save up to 50% off on Maui Horseback Riding Tours, Dining, Attractions, and Entertainment with the Hawaii Entertainment Book!
Click Here to see Discounts!


Save on Maui Horseback Riding Trips with Maui's largest tour broker!