---
Camping on Maui
---
Camping facilities are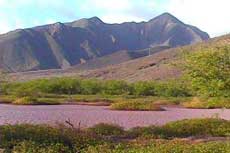 located both along the coast and amid the scenic forest areas of Haleakala. They range in amenities from house-keeping cabins to primitive hike-in sites. All require camping permits - inexpensive for the county, free for the state, and national parks. Camping permits can be obtained by walk-in application through the appropriate office or by writing. Although there is usually no problem obtaining sites, when writing, request reservations well in advance, allowing a minimum of one month for letters to go back and forth. Aside from the several campgrounds on Haleakala, there are two state parks and one county park that offer campsites. For information on hike-in campsites, visit our Hiking & Backpacking Page.
---
---
Haleakala National Park
---
Camping at Haleakala National Park is free, but there is an automobile entrance fee of $10, $5 for bikers and hikers. Permits are not needed to camp at Hosmer Grove, just a shor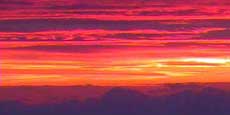 t drive from park headquarters, or at Kipahulu Campground along the coastal road 10 miles south of Hana. Camping is on a first-come, first-served basis, and there's an official three-day stay limit, but it's a loose count, especially at Kipahulu, which is almost always empty.
One of the benefits of camping at Haleakala is that you get to enjoy the fantastic display of light that is the Haleakala sunrise every morning. Tourists come from all around the island to see the sunrise, and you'll be right there.
For more information on camping at Haleakala National Park, check out the links in the table below.
---
Maui State Parks
---
There are eight state parks on Maui, managed by the Department of Land and Natural Resources through their Division of State Parks. These facilities include everything from historical sites to wildland parks accessible only by trail. Some are only for looking at, some are restricted to day use, and two of the have overnight camping. Polipoli Spring and Wainapanapa offer free tenting and housekeeping cabins are available; reservations highly necessary. Permits are required at each, and RV's technically are not allowed. The permits are available from the Maui Division of State Parks (808) 984-8109.
For more information on Polipoli Spring and Wainapanapa campgrounds, click on the links in the table below.
---
Maui County Parks
---
There are 16 county parks scattered primarily along Maui's coastline, and because of their locations, they're generally referred to as beach parks. Most are for day use only, where visitors swim, snorkel, surf, picnic, and sunbathe, but only Kanaha Beach Park in Kahului has overnight camping. Camping fees are quite reasonable at $3 per night per person, 50 cents for children with no more than three consecutive nights at the park. To get a permit and pay your fees for use of a county beach park, call the Maui County Department of Parks and Recreation Permit Office at (808) 243-7389.
---
Camping
---
The following links will provide you with detailed information about the campgrounds and camping guidelines of Maui. For more information on more rural camping, check out our Hiking & Backpacking page.
---