---
Dive Sites on Maui
---
By far the most popular destination on Maui for snorkeling and scuba diving is the Molokini Crater. The crater is a marine preserve and is home to thousands of reef fish. All the dive outfits on Maui run dive trips to the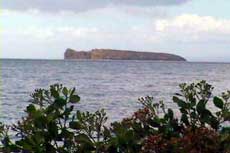 crater, and for good reason. There are all types of dives on the crater, from 20 feet to over 130 feet, and they're all excellent. If you're going to the crater, make sure you get there early, because when the snorkeling boats arrive, it's a zoo. We dove the crater with B&B Scuba, who got us there well before any other boats, and we had almost completed our dive before another boat showed up.
Even better (in our opinion) spots are located off the shores of Lana'i. The First and Second Cathedral, Sergeant Minor and Sergeant Major are probably the best, but there are many more. Most, but not all, of the dive shops on Maui run trips to Lana'i at least once a week. Make sure you check in advance so you know what days these trips are offered at each shop.
There are many other excellent sites on Maui, and the links in the table below will fill you in on what they are. Make sure to consult a guide book as well to get the most out of your trip. Also very important is to make sure you choose a good dive shop to dive with. Check out our page on choosing a dive shop on Maui to help you make a decision. We've also included some links to personal reviews and recommendations to help give you an idea about what the diving is like on Maui.
---
Visit Top 50 Sports Sites to cast your vote for Johann & Sandra's Hawaii Beneath the Waves!
---
---
---
Maui Dive Site Descriptions & Reviews
---
---
Personal Recommendations and Trip Reports
---
---
Underwater Photos
---
---