---
We Dive Maui!
---
After an incredible diving experience in Cancun and Cozumel, we were totally pumped to get in the water in Hawaii. We knew we wanted to make th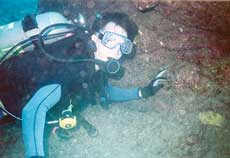 e Manta Ray night dive on the Big Island, and we knew we wanted to do some deep dives as well, so we figured we had better get our advanced open water certification. We checked into taking it at our local dive shop, but then we thought, "What better place to take it than Hawaii?". Since our initial destination was Maui, we signed up to take the class with B&B Scuba, located in Kihei, where we were staying. Our second day in Maui, we hit the water with our navigation dive at Ulua Beach.
The water was 75 degrees, so I opted for a long-sleeved shorty and Sandra a full-length 3mm suit, both of which worked out great. The dive was a shore dive, and only 20-feet deep. The visibility wasn't the greatest, at around 50 feet, a rude shock after the 200-foot vis in Cozumel, and there were far fewer fish. We saw a spotted moray, tang, trunkfish, flounder, and needlefish, along with some nice hard coral formations, but nothing too spectacular. Our instructor seemed bored and annoyed to be there, which kind of bummed us out, but it was just nice to be in the water again, and we couldn't wait for more.
That night we headed back to Ulua Beach (which was disappointing) for our night dive. We had a different instructor this time, which was nice, and one other div
er. This was our first night dive, and offered little to see. We saw and handled (a change from Cozumel, where you're not allowed to touch anything) urchins (the other diver set his hand down on an urchin, and received a palm-full of spines!), crabs, octopus, and morays, but overall the reef was somewhat devoid of life. The fish were few and far between, as they had been during the day. While the dive site was less than exciting, it was a fun experience to do a night dive, and I looked forward to more. Sandra didn't enjoy the night diving very much, as there wasn't anything to see, and told me that I could go alone next time...
We rose at 5:00AM the next day, as we were at the pier by 6:00AM, by far the first boat in the water on the way to Molokini Crater. The shop owner was going to be our instructor for the day, and he knew that the only way to avoid the crowds at Molokini was to be the first! We headed off on a short 15-min. ride to the crater, and waited for the sun to rise as we assembled our gear. The seas were very rough, and our instructor thought that most of the snorkel b
oats wouldn't be coming out there that day. After pitching and rolling while getting geared up, it was nice to finally jump in. It was a lot calmer down there. We were psyched about the much-improved visibility in the crater, around 100 feet or more. This was to be our deep dive, and we descended down to 130 feet at Middle Crater, where we were asked math questions underwater. As we began our touring, we were startled by several grey and white-tip reef sharks that had come over for a visit. They were remarkably active, usually hiding out under a rock, they were now swimming all over the place. It must have been feeding time. Sandra was surprised at her level of calm, as she had always insisted that if she saw any kind of shark, she would freak out! We also saw a splendid display of reef fish, including many varieties of butterfly fish, squirrelfish, and tang, along with several morays. As we were diving quite deep (required for our Deep Dive certification), we felt like we missed out on much of the Molokini experience, though swarms of fish schooled around above us. Upon exiting the water, I chummed for fish over the side almost immediately, and they swarmed to the surface for the feeding frenzy. I found out later that my seasickness patch had come off during the course of the dive. Overall this was an excellent dive site, and if you can avoid the crowds by coming early, this is an entertaining site to dive as well as snorkel.
Next it was off to Aloha Point, where we were taking our first real stab at underwater photography. We snacked on cookies, Hawaiian bread, and pineapple, while everyone battled seasickness from the rough water. Armed with Sea&Sea cameras with external strobes (pretty good cameras to learn on, we thought...), we jumped in an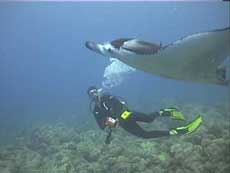 d almost immediately were snapping away. We got some good looks for our first attempt, though they looked really amateur. We encountered a green sea turtle on this dive, the first we'd ever seen, and also more reef sharks and morays, but few fish. This reef wasn't the best, but it was shallow, and the water was more sheltered from the wind and much calmer than that of Molokini. The visibility was modest, at around 70 feet, and the current was fairly calm, but sea life was minimal and the coral was bland. By now we were getting a bit discouraged about diving in Hawaii, after the splendor of Cozumel. Well, we figured, we've paid for it, we might as well enjoy it... As I boarded the boat, I chummed for fish once again, without my patch.
That afternoon, we packed up and headed back south, this time to Makena Beach, for a scooter dive. We were stuck with our first instructor, who was even more bored and unenthusiastic than before. At the shore, there was zero visibility, as sand filled the water, but we hoped that we could swim out past it and get in some diving. We headed out into the surf, and put on our gear. Somehow during our entry, I managed to drop one of my fins, as I was holding the fins under my arm while holding the scooter in the other and trying to put on my fins. I looked all around, but in zero visibility, I couldn't find it. The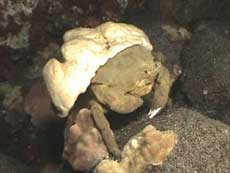 instructor didn't even try to help look, but just sat there looking impatient. We finally had to abandon the fin, and I tried to go out without it. Since we had scooters, I figured I could get by without it. Then, as we were descending and scooting out, my weight belt fell off! Good thing we were only ten feet or so down! The instructor just sat there and looked annoyed some more, and I had to ask another diver who was returning to dive down and get it for me. He did, and we tried again. The visibility remained nonexistent, however, so we headed back to shore. The instructor called around, and found that the other shore dive spots were also zero visibility, and we reluctantly called off the dive. We paid for five dives, but our schedule didn't allow us the time to reschedule this one. I spent a while looking for my fin, but to no avail. That night, I returned to the site and posted a sign on a tree with bubble gum, hoping someone would find my fin.
The following day, as I was fin-shopping in Lahaina, moments before I made a purchase, I decided to call B&B and see when we should stop by and get our temporary cards. "We found your fin!" the shop owner exclaimed. Apparently a diver at Maui Dive Shop had found it and called the shop because he saw my sign! That made my day for sure! We stopped in later, and one of the guys in the shop helped us analyze our photos from Aloha Point, and was very helpful and friendly. We got photos taken for our cards, and picked them up the following day.
B&B Scuba has contacted us several times since we put up this site, apologizing for our experience and offering to make it up to us. We appreciate the offers they've made very much, but we really don't feel they owe us anything. The instructor who we spoke about above no longer works for them, and we never complained to them while we were there, so they had no way to know there was a problem. It's good to know, though, that they really do care about the quality of the experience that their clientele come away with. The other guys in the shop were very professional and we really liked that we were the first boat to Molokini. Overall, we would recommend B&B Scuba to anyone. We've also received e-mails from other divers who have all had good experiences with B&B.
After a day off of diving to visit the island of Lana'i, we headed off at 6:00AM sharp to meet Ed Robinson's Diving Adventures at the Kihei Boat Ramp, where we loaded up for a trip to the Cathedrals of Lana'i...
Mike Severns Maui Scuba Diving
Maui's waters offer some of the most amazing SCUBA diving in the world! Enjoy an educational, personalized dive with the experts at Mike Severns Diving.

Extended Horizons Maui Scuba Diving
Extended Horizons has been serving Maui visitors and residents since 1983. Join them on a Maui Scuba Diving excursion you'll never forget!

Trilogy Maui Scuba Diving
Enjoy an unforgettable Maui scuba diving adventure with Trilogy. Maui dive locations include a day trip to Lanai and a twilight and night dive to Molokini.
---
Visit Top 50 Sports Sites to cast your vote for Johann & Sandra's Hawaii Beneath the Waves!
---