MAUI DINING
MAUI RESTAURANTS

Maui Travel Guide
Maui Accommodations
Maui Land Activities
Scuba Diving / Snorkeling
Maui Water Sports
HOT LINKS
---
Maui Dining Guide
---
On Maui, you'll find any type of food you desire, from hamburgers to Italian to Greek to Thai. You'll also find all price ranges, from dirt cheap to incredibl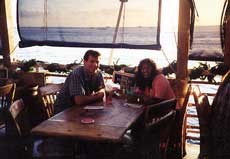 y expensive. The best deal on Maui is the plate lunch, which usually gives you a scoop or two of rice and pasta salad, with some type of local meat, such as teriyaki beef. It's not much different than bento, really, but it is delicious and inexpensive, at around $4-$6 a plate.
Typical island fare is generally a good mix of various Asian cuisines, such as Japanese, Chinese, Vietnamese, and Thai. We found that good food came at a hefty price on Maui, though we really enjoy the plate lunches. One place we really enjoyed was Kobe's Japanese Restaurant in Lahaina, where they cooked at your table, put on a humorous and entertaining show, and served up delicious, fresh Japanese food.
For a truly festive dinner show and entertainment, there's nothing like an authentic Hawaiian Luau. All-you-can-eat food, all-you-can-drink open bars, and all-you-can-handle Polynesian dancing and festivities. Check out our Entertainment page for Luau information. The Old Lahaina Luau is generally considered the best show on Maui, and perhaps even all of Hawaii.
The links below will take you through the options awaiting you on the Valley Isle. They will give you good guidelines as to what to expect, and where to make reservations, as well as fill you in with recommendations of the best restaurants on Maui. For discounts of up to 50% off dining throughout the islands of Hawaii, the Entertainment Book is a great buy. You can also save up to 25% with the Activity Owner's Association Gold Card, which really adds up after all that expensive airfare and hotels. To really get a good insight on which restaurants are worth visiting, check out Frommer's Maui Restaurant Reviews.
---
Maui Dining Guides
---
---

Save up to 50% off on Hawaii Dining, Entertainment, Hotels, and Attractions with the Hawaii Entertainment Book!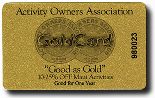 Save up to 25% off Maui Dining, Activities, and Attractions with the AOA Gold Card

Hawaiian Jewelry and Gifts
Hawaii Shopping


Maui, Oahu, Kauai, Molokai, Lanai, and the Big Island!